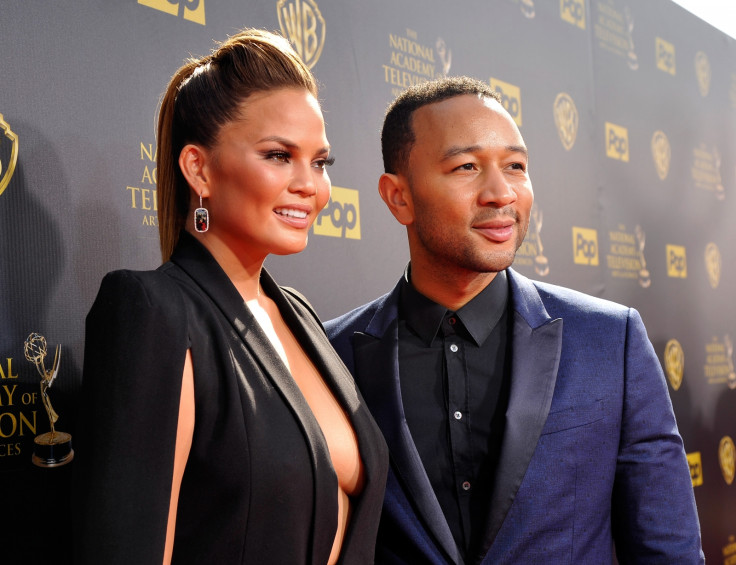 It appears as if Justin Bieber unexpectedly started a trend yesterday (7 July) when he posted a photograph on Instagram of him looking away from the camera, completely naked, giving millions of his followers a peak at his bare bottom.
The internet almost broke down after hundreds of memes made about the snapshot emerged, while admirers of his behind excitedly shared their love for it on Twitter and Tumblr. And now, Chrissy Teigen appears to be jumping on the bandwagon.
The model shared a candid, nude image of her husband, John Legend, on her own account , which depicted the All Of Me singer from behind, as she seemingly lay on the bed behind him in their hotel room in Paris. The couple were in the French capital to attend the Lancome 80th anniversary party for Haute Couture Fashion Week.
Teigen simply captioned the photograph with "@instagram", which many are speculating is a taunt to the social-networking company. The 29-year-old has been in somewhat of an online war with Instagram as of late, as every time she uploads an image considered inappropriate for the app (such as one in particular that was displaying her nipple), Instagram takes it down.
Actions which a disgruntled Teigen has simply retaliated to by posting the same image just a few minutes later. As Bieber's behind is still quite visible on his account, is Teigen doing it to see whether different rules apply to her posts rather then the young pop sensation's?
The reactions to Legend's nude photo have been a lot more subdued than the mania that surrounded Bieber's image. But that does not mean it has not gone unnoticed. Many took to Twitter to share their appreciation, with many calling the subject of the photo "cute" and some even describing it as "yummy".