An initial wave of 900 refugees have fled the city of Mosul as an Iraqi and Kurdish offensive on the Isis stronghold, the group's last power base in Iraq, enters its third day.
The UN's refugee agency said the 900 refugees crossed from Iraq into Syria as Iraqi and Kurdish forces battle to secure outlying villages and hamlets previously held by the Islamic State (Isis). The group is the first of some 100,000 refugees from Mosul expected to seek shelter in the initial weeks of the assault.
The international NGO Save the Children has said that in the last 10 days about 5,000 refugees, mostly women and children, have arrived at the al-Hol camp in eastern Syria from Mosul and its surrounding areas. At least 1,000 more inhabitants are now massing at the Iraqi border waiting to cross into Syria.
Sarah Pilchick, Communications Manager at Save the Children International in Erbil, told IBTimes UK al-Hol is already known for poor and deteriorating conditions.
"These refugees have just escaped a really dire situation in Mosul. We just hope that within the camp in Syria sanitation will be improved, that water supplies will be improved, significantly and rapidly," she said.
According to the NGO, the camp has been littered with waste and faeces, raising the risk of outbreaks of disease as a result. Inside, 9,000 people share just 16 latrines as queues of dehydrated individuals stretch for more than 100 metres waiting for trucks carrying dirty, untreated water.
"One of the contingency plans we have is that there will be mass movement into Syria but also within Iraq camps are being built as quickly as possible. Presently, however the ones that do exist are overcrowded," Pilchick said.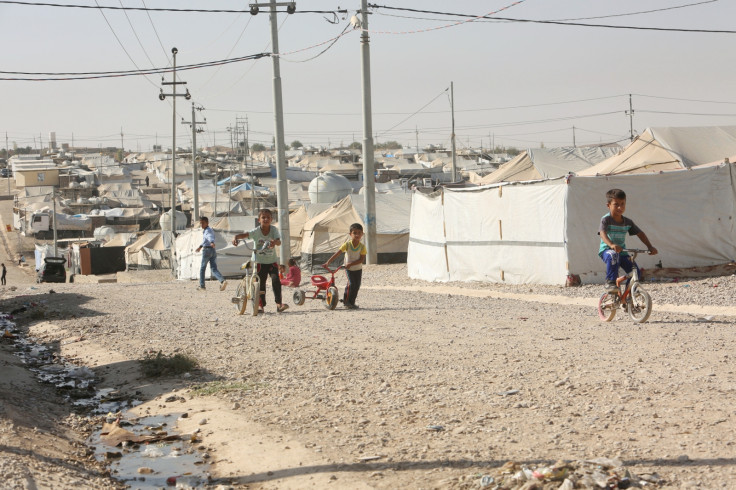 Pilchick said there was a risk, if capacity was not expanded, that refugees could move into unfinished buildings under construction and other informal settings rather than going into traditional camps. With winter on its way she said this could be a "massive problem".
Reports from inside Mosul itself have claimed Isis (Daesh) is stopping residents from leaving to use them as human shields, as was seen during the Iraqi assault on Fallujah. There are roughly 1.5 million inhabitants inside the city. Humanitarian groups have urged combatants to keep refugee corridors open but already reports of civilians being caught up in the violence have emerged.
The assault by Iraqi and Kurdish forces on Mosul has slowed after initial gains made in the campaign's first 24 hours. The offensive to dislodge some 6,000 Isis fighters are still inside the ethnically diverse city is the largest operation in the country since US troops withdrew in 2011.
Isis has counter-attacked in the outskirts of Mosul with snipers and suicide bombers, impeding the advance.