The Islamic State (Isis) has released graphic propaganda images apparently showing child soldiers – known as Caliphate Cubs – executing two men accused of being US spies, in the areas surrounding Mosul.
The images, released through Amaq, Isis's propaganda outlet – and independently verified – show the two men dressed in orange jumpsuits in a style typical of images published by the terror group.
The Terrorism Research & Analysis Consortium has said the pictures were released by Wilayat al-Jazirah, a splinter of Wilayat Nineveh or Niniveh State, part of IS' administrative structure for Mosul. Wilayat al-Jazirah would appear to refer to an area close to Mosul rather than the city itself.
In earlier pictures, released in what appear to be screengrabs of a longer video, the two men appear against a darkened background at wooden tables, apparently confessing to their crimes.
Later images show the two children, neither of whom can be older than 13, dressed in camouflaged military fatigues and holding handguns up to the back of the two prisoners' heads. Their hands are bound with handcuffs.
The last pictures show the two men dead with single bullet wounds to the head. They are lying on the ground in the foetal position with blood splattered on the floor.
The images were released on the same day that Iraqi Prime Minister Haider al-Abadi announced the launch of a campaign to retake the city, which has been held by the militant group since June 2014.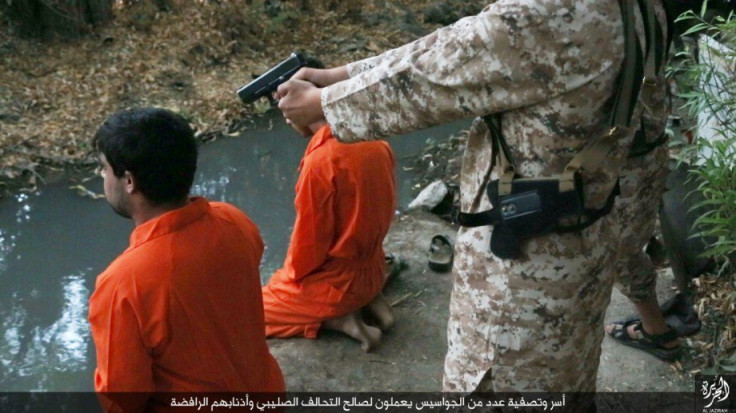 Lt Gen Stephen Townsend, commander of Combined Joint Task Force Operation Inherent Resolve, warned that the operation to reclaim Mosul, which is backed by US-led air support, will likely last "for weeks."
As the assault on Mosul continues, commanders have reported the advance is slowing as Iraqi forces overtake their Kurdish counterparts. The Peshmerga yesterday captured a handful of villages east of Mosul but encountered resistance from IS, who retaliated with sniper fire and suicide bombers.
IS has held Mosul, a city of 1.2 million inhabitants for the last two years. It was in Mosul that the leader of the militant group, Abu Bakr al-Baghdadi, declared his so-called caliphate.
The battle to reclaim Mosul and effectively flush the terror group out from Iraq is expected to last weeks, if not months. Isis is expected to fight back using booby traps and improvised explosive devices (IEDs), CNN has reported.
Estimated to have between 3,500 and 5,000 fighters in Mosul, IS supporters bring the total to 7,000. The jihadists have suffered serious setbacks since January 2015, when it was at the peak of its power. Since then, it has lost 28% of the territory it once controlled, according to security and defence analysts IHS.