Residents of Mosul have said that the Islamic State (Isis) extremists were using human shields as Kurdish Peshmerga and Iraqi forces seized villages and moved closer to the group's stronghold.
The leader of the jihadist group, Abu Bakr al-Baghdadi, is reportedly among the thousands of hard-line extremists in the city, indicating that the militants could go to any extent to stop the coalition from advancing.
Residents who spoke to Reuters over the phonesaid that nearly 100 families have started moving from the southern and eastern suburbs – which are the most exposed parts of the city to the offensive – to central Mosul.
Abu Mahir, a resident told Reuters: "It's quite clear Daesh (Islamic State) has started to use civilians as human shields by allowing families to stay in buildings likely to be targeted by air strikes."
Abdul Rahman Waggaa, a member of the exiled Provincial Council of Nineveh, confirmed the situation to the news agency.
Meanwhile, Pentagon spokesperson Captain Jeff Davis, told reporters in Washington that extremists were using human shields to protect themselves.
"This has been going on for several weeks where we've seen civilians being forcibly detained and their movements being prevented where they can't get out of Mosul. They are being held there against their will," he said, adding, that the battle to take Mosul will be a difficult one.
"But I will tell you we've seen very good progress. It's day one, don't get your hopes up, it's going to be a while."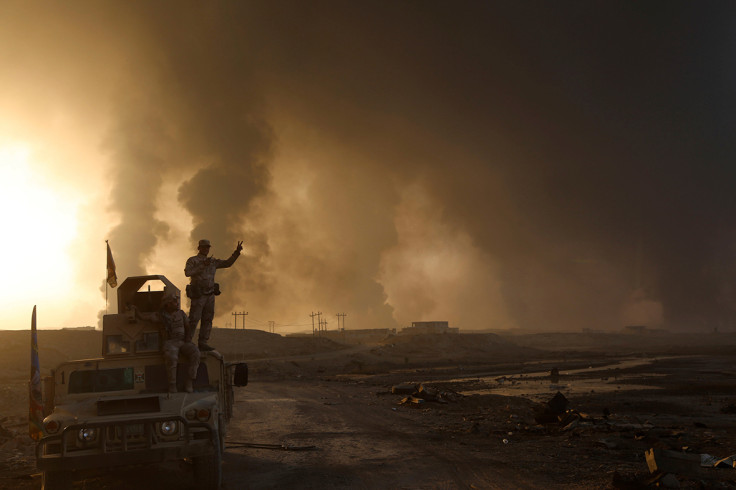 At least 5,000 Isis fighters are engaged for the third day in the battle for Mosul. Around 1.5 million civilians are said to be living in the city. Considering the situation, the International Organization for Migration said that IS could use thousands of residents as human shields to maintain control over the city. They also said that the group could possibly deploy chemical attacks, which they have allegedly used against Kurdish fighters.
Iraqi Prime Minister Haider al-Abadi said that safe routes for citizens to leave the city have been secured and further added that it was the duty of the US-led coalition to make sure IS militants do not escape to neighbouring Syria.
US President Barack Obama said that the fight in Mosul will be a tough one but the Islamists "will be defeated in Mosul".