The internet ground to a halt on Wednesday (29 November) when Marvel released the first trailer for what will be the biggest, most ambitious superhero movie ever made. Set for release next spring, Avengers: Infinity War will unite the Marvel Cinematic Universe to take on a threat to all life in the galaxy.
This was the first official look at the upcoming blockbuster directed by Joe and Anthony Russo (Captain America: The Winter Soldier, Captain America: Civil War) and it showed a lot more than most would have been expecting.
Here are our five favourite moments from the new trailer.
The Mad Titan Thanos
It may feature dozens of Marvel's most famous heroes, but the star of Infinity War is undoubtedly Thanos: Josh Brolin's megalomaniacal antagonist, who we see in action in the trailer and having a bit of villainous fun.
"Dread it. Run from it. Destiny still arrives," he says before his first appearance on what could be the space craft that appears over New York City. We see him on it later, fighting Tom Holland's Spider-Man, but this first shot could be from another scene.
Later we see him in action, dropping the Power (purple) and Space (blue) Infinity Stones into the Infinity Gauntlet. These are two of the six stones he's searching for, which will give him control over all existence.
"Fun isn't something one considers when balancing the universe, but this does put a smile on my face," he says, before punching Iron Man (Robert Downey Jr) to the ground with his non-gauntlet hand.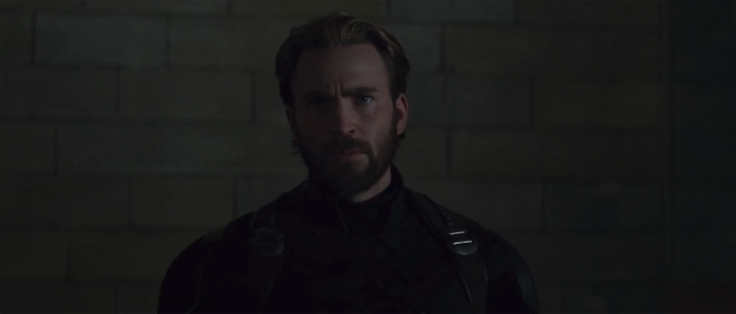 'Get This Man A Shield'
If that line from Thanos isn't the best line in the trailer, then Chadwick Boseman's T'Challa (aka Black Panther) surely does. Before seeing an invading alien force land in his native Wakana - a technologically-advanced, fictional African nation - he says: "Evacuate the city. Engage all defences and get this man a shield."
He's referring to Chris Evans' Captain America, who is now sporting a beard. The iconic hero has been in Wakanda since 2016's Civil War, after breaking the law and going on the run from authorities.
Spidey Sense
Following the success of Spider-Man Homecoming earlier this year, it was inevitable that Tom Holland's web-slinger would be a focus of the new trailer. He's introduced when the aforementioned ship appears over New York and the hairs on his arms stand on end.
It's the first sign of the characters 'Spidey sense' ability, which warns him of danger. This is particularly significant because he didn't have this ability, one of the character's most famous, in Homecoming.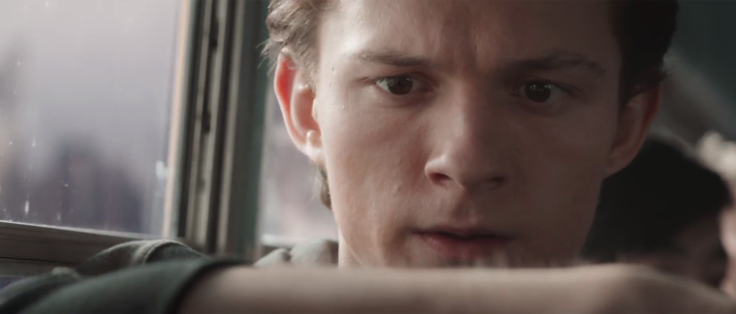 Peter Parker's Spidey sense is not fully developed though, because he definitely doesn't see Thanos coming.
We also see Spidey sporting the Iron Spider suit Tony Stark made for him in Homecoming, but which he turned down after realising he needed to slow down his career in superheroics. Unfortunately, Thanos has other plans, and needs must.
Invasion of Wakanda
The invasion of Wakanda leads to all-out war with an alien race seemingly summoned by Thanos. They clash with the peoples of T'Challa's nation, and six more familiar faces who appear together in the trailer's money shot alongside Black Panther and his kinsmen.
Cap leads the line alongside Black Widow (Scarlett Johansson, sporting blonde hair), The Winter Soldier (Sebastian Stan, sporting a new robotic arm), Hulk (Mark Ruffalo), and War Machine (Don Cheadle) and Falcon (Anthony Mackie) who are flying behind them.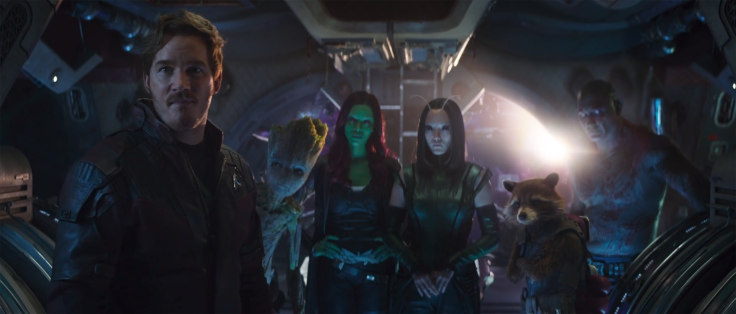 'Who the hell are you guys?'
At the end of the trailer we get a parting gag revealing (not for the first time) that the stars of Guardians of the Galaxy will finally be crossing over with our Earthbound heroes. They appear when Thor (Chris Hemsworth) asks: "Who the hell are you guys?"
In footage shown privately to audiences at Disney's D23 fan convention and San Diego Comic Con, Thor was shown hitting the window of the Guardians' ship. This scene will presumably take place soon after they've recovered him.
---
Infinity War is the first part of a story that Marvel Studios boss Kevin Feige has described as a true "finale", which will mark the end of the stories of many of the big screen's most popular superhero characters. The story concludes in the untitled Avengers 4 in 2019.
Dozens of characters will cross paths for the first time to take on mad alien Thanos (Josh Brolin), who plans to acquire the means to rule the galaxy and all reality.
This means the original Avengers lineup (Robert Downey Jr's Iron Man, Chris Evans' Captain America, Chris Hemsworth's Thor, Scarlett Johansson's Black Widow, Ruffalo's Hulk and Jeremy Renner's Hawkeye) will meet the Guardians of the Galaxy (Chris Pratt's Star-Lord, Zoe Saldana's Nebula, Dave Bautista's Drax, Bradley Cooper's Rocket and Vin Diesel's Groot).
Many, many more will fight alongside them, including Tom Holland's Spider-Man, Chadwick Boseman's Black Panther, Benedict Cumberbatch's Doctor Strange, Paul Bettany's Vision, Elizabeth Olsen's Scarlet Witch, Anthony Mackie's Falcon, Sebastian Stan's Winter Soldier and Don Chealde's War Machine.
Karen Gillan's Nebula, Tom Hiddleston's Loki, Paul Rudd's Ant-Man and Pom Klementieff's Mantis are also set to feature. Avengers 4 is expected to include even more characters, such as Evangeline Lilly's Wasp and Brie Larson's debut as Captain Marvel.
Quite a few characters then.
Avengers: Infinity War will be released on 27 April 2018 in the UK. Avengers 4 is set for release on 26 April 2019.
An official synopsis reads...
An unprecedented cinematic journey ten years in the making and spanning the entire Marvel Cinematic Universe, Marvel Studios' Avengers: Infinity War brings to the screen the ultimate, deadliest showdown of all time. The Avengers and their Super Hero allies must be willing to sacrifice all in an attempt to defeat the powerful Thanos before his blitz of devastation and ruin puts an end to the universe.