Members of the Oromo community in the UK have gathered in central London to protest against the forced eviction of their people in Ethiopia. Protesters argued the Ethiopian government's so-called "master plan" to expand the borders of capital Addis Ababa into the regional state of Oromia will lead to the eviction of Oromo people from their farmlands.
The forced evictions allow authorities to build roads and infrastructures. As a result, Oromo people lose their livelihoods and become poor. Demonstrators also argued that forced evictions as well as a perceived marginalisation by the government threatens the survival of their culture and language.
Activists also claimed Ethiopian security forces persecute and kill Oromo protesters. Earlier in December, reports alleged that at least seven Oromos were killed during protests against Addis Ababa expansion. Oromia police confirmed three people were killed, defying them as "anti-peace forces".
In May 2014, at least 11 students were killed during demonstrations against the master plan. Protesters set fire to a bank, a gas station and some government buildings, said the police, while the government denied that protesters were killed.
Several NGOs have condemned the persecution of Oromos in Ethiopia. Amnesty International said in a 2014 report that Oromo dissidents were arrested tortured and killed. The report said: "The Ethiopian government's relentless crackdown on real or imagined dissent among the Oromo is sweeping in its scale and often shocking in its brutality. This is apparently intended to warn, control or silence all signs of 'political disobedience' in the region."
Abiy Berhane, Minister Counsellor at the Embassy of Ethiopia in London, told IBTimes UK he was not aware of the protest occurred on 10 December. He said: "Such a demonstration can only be held by the usual group of people with the same agenda that has not attracted support from many Ethiopians inside or outside the country.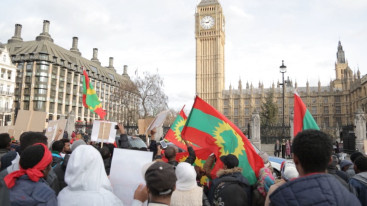 "The protesters are members and sympathisers of violent opposition groups who are determined to overthrow the constitutional order in Ethiopia by force. The allegations they made are fabrications that are designed to gain propaganda mileage for the violent objectives they are trying to promote in Ethiopia."
"There has never been any eviction of the Oromo people from their farms," Berhane continued. "The purpose of the Addis Ababa Integrated Master Plan, which is said to be the subject of their protest, is to ensure that towns that are adjacent to Addis Ababa and located in Oromia region, benefit from development activities taking place in the capital city.
"These opposition groups have made it a habit to engage in a malicious campaign to tarnish the image of Ethiopia. Ethiopia is a federal state composed of more than 80 nations, nationalities and peoples, among which the Oromos feature prominently and contribute enormously for the socio-economic transformation currently taking place in the country."