Political activists stormed an art gallery in South Africa and defaced a controversial artwork they claim is racist. The piece consists of a large canvass with the words "fuck white people" printed across it several times.
At least five members of the Cape Party approached the work at the National Art Museum in Cape Town on 17 January and filmed themselves placing a large sticker which read "love thy neighbour" over the piece. They engaged in a minor scuffle with two museum staff who attempted to stop them.
F**k White People is a piece by white artist Dean Hutton. In the description accompanying the art, he explains: "White people made racism and made sure it is deeply embedded in our social systems, laws, economies, institutions and individuals. So this provocation is here to make you feel that 'white pain.'"
The Cape Party is a fringe organisation that advocates the independence of some of South Africa's cape regions. Sporting party T-shirts and denim jeans, three of the intruders calmly approach the work and apply the sticker while fending off museum staff. The group's leader Jack Miller tries to pacify the officials, saying: "We will take responsibility for this."
As staff plead with them to stop, Miller retorts that the work is "racist". With the sticker attached, covering a large section of the canvas, he then faces the camera and declares: "Love white people, love everyone, love thy neighbour."
Hutton told News24: "I am not concerned about an artwork as that is easily reproducible. The two employees responded non-violently and attempted to shield the work with their bodies. They were manhandled, dragged and pushed around by white men."
The film shows staff grappling with the protesters but at no point is anyone thrown to the floor or punched. One of the Cape Party members was not white.
Hutton, who has been pictured wearing a jumpsuit with "fuck white people" emblazoned across it, says he has received threats online. The museum insists the exhibition will continue.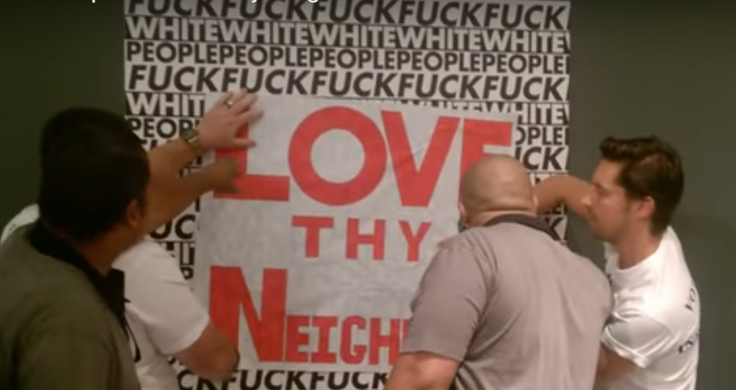 You can watch the video of the altercation on YouTube.