Spanish photographer Mario Cea's shot, The Blue Trail, was chosen by the public from a shortlist of 25 images pre-selected by the Natural History Museum from almost 50,000 submissions from 95 countries.
Cea said his picture took about five months, 5,000 attempts and a huge amount of preparation to achieve. Capturing the flawlessly straight dive of a kingfisher in a natural way is a rare accomplishment in wildlife photography. For Cea, what makes his image special is the light trail the bird seems to leave behind it. "The incredible speed of the bird means the movement is almost invisible to the human eye, so I had to use lighting to both illuminate the image and freeze movement. I think one of the reasons people like this image is the palpable trail of light the bird leaves behind."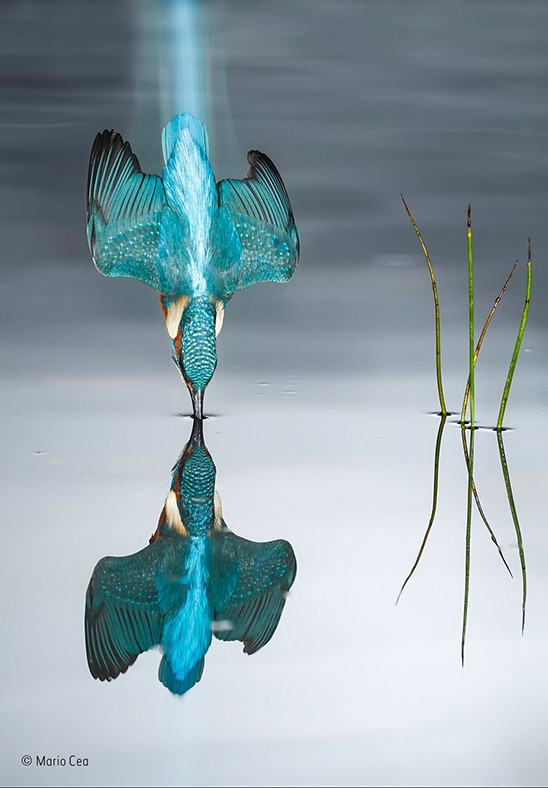 Kingfishers can reach speeds of up to 25mph as they hit the river's surface with their dart-like bill. The high-speed impact generates shockwaves through the water that can startle a fish, so speed is essential. They often catch prey below the water's surface; the kingfisher spreads its wings underwater to break the dive.
Capturing the lightning-fast dive in the wild is a real challenge for photographers. Some use bait so that they can predict where the bird will strike, but not this one. Cea says his persistence and keen observation paid off. "I observed this particular kingfisher for a long time and visited the location regularly for five months. The bird repeatedly hunted in the same spot several times – a small bend in a shallow pond with a high concentration of fish. My understanding of the bird's natural behaviour and hunting routines was essential in achieving the shot." Cea says he has heard of another wildlife photographer who took about 20,000 attempts to capture a similar kingfisher image.
The photo was taken at a small pond in the outskirts of Salamanca, north-western Spain. "The pond was created artificially as the minor diversion of a nearby riverbed. Over the years, the wildlife and ecosystem around the pond have grown naturally and it is now an established and attractive habitat," he said.
Almost 25,000 people voted for one of 25 shortlisted images, reprinted in this gallery. Did the people get this one right?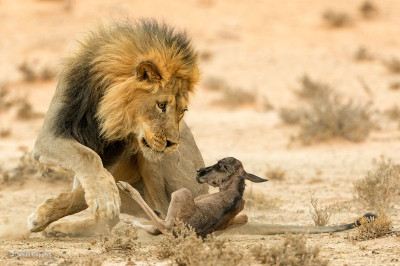 The People's Choice winner will be showcased in the Wildlife Photographer of the Year exhibition at the Natural History Museum until 10 September, along with 100 other fantastic images chosen by the judges. The overall winner, by American photographer Tim Laman, shows a critically endangered Bornean orangutan making a 30-metre (100-foot) climb up the thickest root of a strangler fig that has entwined itself around a tree emerging high above the rainforest canopy in the Gunung Palung National Park, in West Kalimantan, Indonesian Borneo.