The second episode of The Flash airs today, Tuesday, 14 October at 8 pm ET on The CW.
The second episode of the Arrow spinoff show is titled Fastest Man Alive, and it will introduce Danton Black aka Multiplex (Micheal Christopher Smith), a villain who has the ability to clone himself.
Click here to watch the episode online.
Barry (Grant Gustin) escorts Iris (Candice Patton) to a university gathering honoring scientist Simon Stagg (guest star William Sadler). When six gunmen storm the event, Barry changes into The Flash and tries to stop them. While he does save a man's life, he passes out before he can capture the robbers, which frustrates him. As Dr. Wells (Tom Cavanagh), Caitlin (Danielle Panabaker) and Cisco (Carlos Valdes) scramble to find out what's wrong with Barry, Joe (Jesse Martin) comes down hard on Barry for taking the law into his own hands and risking his life. Barry realizes that it wasn't six gunmen but a metahuman named Danton Black (guest star Michael Christopher Smith), who can make multiples of himself. Meanwhile, Iris becomes even more intrigued by the "red streak."
Captain Cold look revealed
DC Comics head Geoff Johns has given us a look at Prison Break star Wentworth Miller as Captain Cold, who will be making his debut in an upcoming episode of the Flash. Johns said that the producers "look at Heat a lot, with [Robert] De Niro" for inspiration on Miller's villain.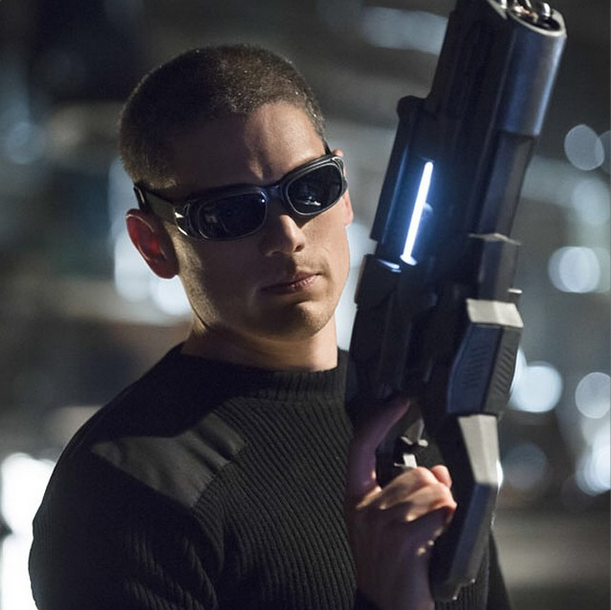 "He is this guy who pulls jobs very carefully, and, suddenly, [The Flash turns up] and he has to change his game," Johns told Tvline.
Executive producer Andrew Kreisberg added, "He has to figure out how to deal with this new threat in Central City to his way of life. It's all about him evolving and surviving the new world order. Guns aren't going to do it, so he's got to have something a little bit stronger."
"He's not the villain that we see in the comics yet. [But] we're going to get there."
Will Barry learn how to control his new powers or will Multiplex bring him down?