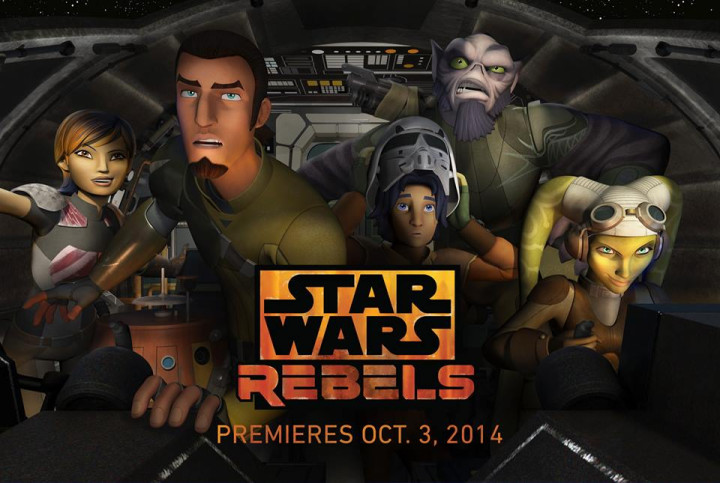 Disney's new show Star Wars Rebels returns with its 2nd episode today, 13th October, at 9pm on DisneyXD.
The second episode is titled, Driods In Distress, and the official synopsis reads, "The rebels intercept a shipment of weapons intended for the Empire and accidentally end up hosting a pair of droids."
Click here to watch the episode online via live stream.
You can also watch the episode online by clicking here.
The animated series kicked off over the weekend with the one-hour premiere episode Spark Of Rebellion on Disney Channel. It takes place between the feature films Star Wars: Revenge of the Sith and Star Wars: A New Hope.
A diverse crew of freedom fighters aboard the starship Ghost are waging a small war against the Empire. In command is Kanan (Freddie Prinze, Jr), a survivor of the Emperor's Jedi purge.
The crew also includes: Ezra (Taylor Gray), a con artist; Sabine (Tiya Sircar), lover of explosions; Zeb (Steve Blum), the muscle; and Chopper, a grumpy droid.
Here's the description of the series:
The story unfolds during a dark time when the evil Galactic Empire is tightening its grip of power on the galaxy. Imperial forces have occupied a remote planet and are ruining the lives of its people. The motley but clever crew of the starship Ghost - cowboy Jedi Kanan, ace pilot Hera, street-smart teenager Ezra, the "muscle" Zeb, warrior firebrand Sabine, and cantankerous old astromech droid Chopper - is among a select few who are brave enough to stand against the Empire. Together, they will face threatening new villains, encounter colorful adversaries, embark on thrilling adventures and become heroes with the power to ignite a rebellion.
Disney also released an exclusive clip at the New York Comic-Con 2014. In the clip, Hera demonstrates her superior piloting skills while outrunning an Imperial TIE Fighter.