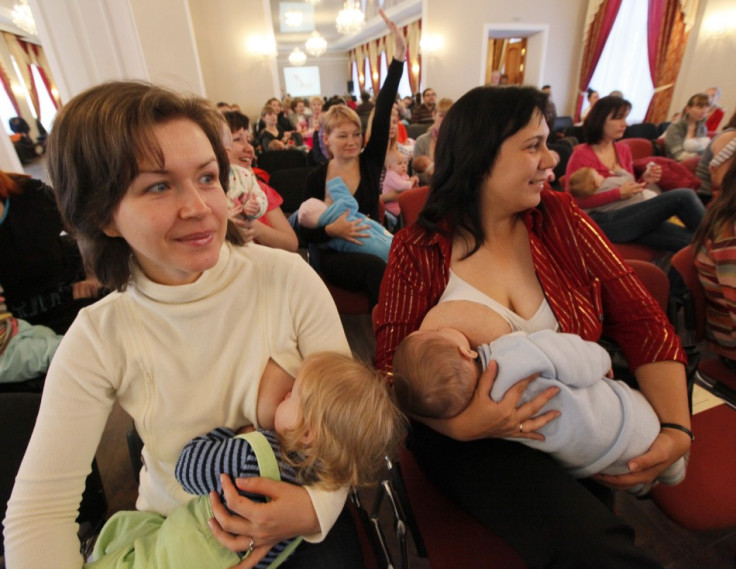 A group of breastfeeding mothers staged a flash mob demonstration in a city centre to demand their right to feed their babies in public.
As many as 40 mothers, some along with their partners, performed at Brighton, East Sussex, and breastfed their children in front of onlookers.
The Daily Mail reports the demonstration was organised by 38-year-old Claire Jones-Hughes, who was criticised by customers in a cafe for breastfeeding her four-month-old daughter.
"One woman said, 'It was very unpleasant watching you feed. You should have covered up more,'" Claire shared her experience with the newspaper.
"When I protested, the others joined in, and another person present said, 'You should have used a towel.'"
"I was really shocked, especially as I'd gone to a lot of effort to be discreet."
"In their world, it was completely unnatural that they should see me doing that."
Claire was taken aback by the people's reaction.
Claire looked for support through online medium and could gather 39 other mothers with their babies to join the mob at the Clock Tower.
The organiser felt such a gathering would give confidence to mothers who are not comfortable to breastfeed in public.
"There is an assumption that Brighton is generally seen as a very tolerant, broad-minded community but as this and previous unpleasant episodes show, nowhere is safe from such bigotry," the newspaper quotes Suzanne Borrell, a member of NCT, a charity organisation which supports parents.
Flash mobs are extremely popular in the UK especially in train stations, however, this was a unique attempt by breastfeeding mothers to show their displeasure against intolerance towards mothers breastfeeding in public space.