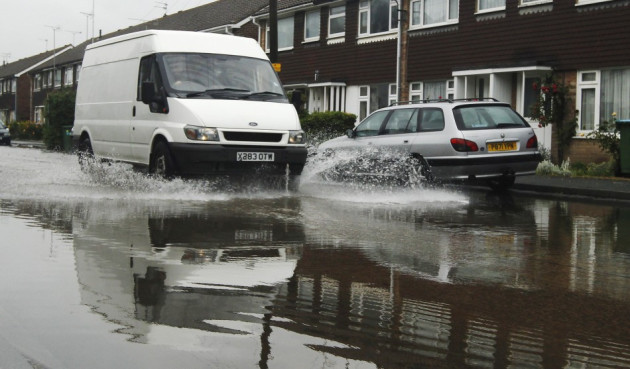 Forecasters have warned people in the south west to prepare for further flooding as up to 50mm of rain could fall on already inundated areas.
The Environment Agency has issued 70 flood warnings - meaning flooding is expected - to areas across the south east and the Midlands, and a further 110 flood alerts across the rest of the country following recent heavy downfalls.
The Met Office has issued amber weather warnings in 10 areas of the south west including Devon, Dorset, Bristol and Bournemouth for 22 October, with the bad weather expected to last into the weekend.
The recent weather has already caused chaos for drivers in the south west. Devon and Cornwall Police say there have been a number of reports of standing water on the roads, leading to cars becoming stranded.
A spokesman said: "There are significant incidents of standing water being reported on the roads, and so we need drivers to take extra care and adjust their braking times accordingly. Drivers need to match their speed with the conditions."
The Environment Agency warned that rivers are likely to swell, and strong winds, debris and fallen leaves may exacerbate the surface water flooding.
Helen Rossington, a forecaster with MeteoGroup, said: "We tend to get this sort of weather in autumn, but it has fallen onto already-saturated ground which has caused the flooding.
"There was a lot of rain overnight, mostly in the Devon area, while other places have had as much as one inch.
"We're expecting more rain and it will become more windy into Thursday. The rainfall will cause yet more problems."
Bob Wilderspin, Met Office Chief Forecaster, said: "The current unsettled spell of weather is set to continue with further spells of heavy rain expected across the country over the next few days.
"A particularly squally day is expected on Thursday as strong to gale force winds combine with heavy rain moving in from the west. With winds gusting up to 60 to 70 mph in places and 20 to 50 mm of rain falling in a short period of time, we urge everyone to keep up to date with forecasts and warnings and be prepared for what the weather will bring."
Alison Baptiste, Environment Agency Flood Risk Manager, said: "We strongly urge people to sign up to flood warnings on the Environment Agency website, keep a close eye on local weather forecasts and be prepared for flooding. We also ask that people stay safe, by staying away swollen rivers and not attempting to drive through floodwater."