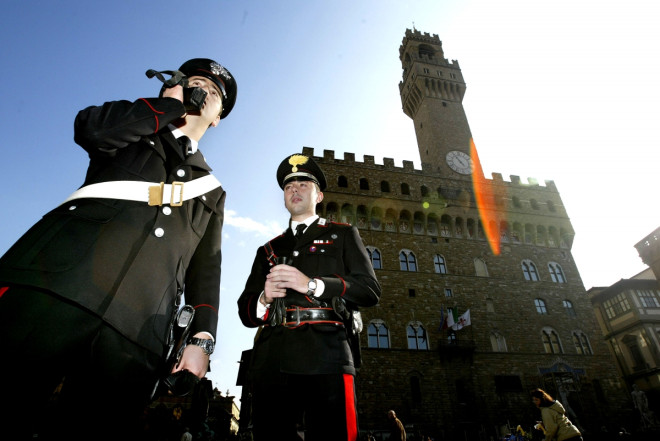 Italian police are investigating a potential serial rapist and murderer after the naked body of a woman was found hanged in a crucifixion-like position under a highway overpass near Florence, where another woman was assaulted in similar circumstances last year.
An elderly cyclist found Andrea Cristina Zamfir, a 26-year-old of Romanian origins kneeling lifeless in an isolated area near a field just outside of Florence's north-western suburb of Ungano.
"She was tied with her arms outstretched; her head was rolled over," the cyclist told il Corriere della Sera newspaper. "It looked like she was crucified."
Zamfir was wearing only a pair of trainers. Police found the rest of her clothes about a kilometre away.
Detectives said the woman, possibly a prostitute, was fastened to the bar with tape, then brutally raped and finally abandoned to her death.
In March 2013, a 46-year-old female drug addict who occasionally prostituted herself, told police she was raped and robbed by a client who tied her to the very same gate bar under the overpass of the A1 motorway connecting Milan to Naples.
The woman was rescued by locals who heard her screams but the rapist managed to run away.
She described the attacker as a stocky, balding Italian man in his 50s who drove a white minivan and had a strong Florence accent.
Residents in the area said that at least another five women, mostly prostitutes, were the victims of similar attacks in recent years, but preferred not to report the violence to police.
"Already seven-eight years ago I found another girl near a stream around her," said 80-year-old local resident Pasquale Checcacci. "She was tied naked and had been abused."
The case has brought to light memories of Italy's most famous serial killer, the so-called Monster of Florence, who brutally murdered and mutilated eight couples in the outskirts of Florence a few decades ago.
Paolo Canessa, the prosecutor who followed the Monster's yet unsolved murders, has been assigned to investigate Zamfir's death.