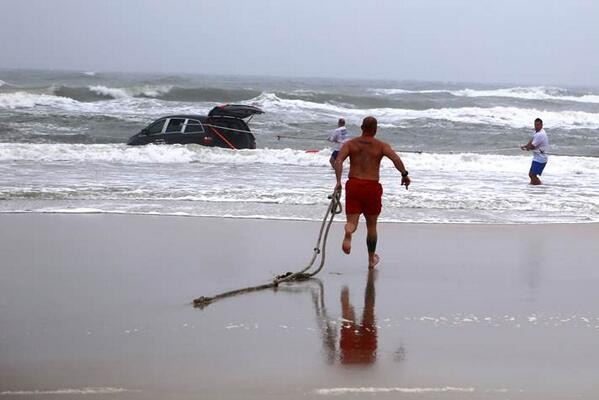 A pregnant Florida mother has been arrested on charges of attempted murder after becoming "possessed" at the wheel of her minivan before driving her children into the ocean.
Shocking footage emerged of Ebony Wilkerson driving her and her three children into the ocean at Daytona Beach.
She has been arrested on attempted first-degree murder and aggravated child abuse, Volusia County Sheriff Ben Johnson said.
Wilkerson's three children, aged three, nine and 10, were heard screaming "our mommy's trying to kill us" moments before being driven into the water by their mother.
Tim Tesseneer told WESH News, he was one of the first to reach the minivan.
"The two in the back seat were crying, with their arms out saying 'Our mommy's trying to kill us, please help'," he said.
"She had this look on her face. I can't describe it. It was just an awful blank look, like spaced out look."
Dramatic video footage, shot by Simon Besner, shows lifeguards and onlookers rushing to the rescue as the car is swept further out to sea by strong waves.
Investigators said that Wilkerson was "incoherent" when lifeguards arrived at the scene while her sister told police that she was "acting odd" before the incident took place.
"She's talking about Jesus, that there's demons in the house," her sister said.
It is understood that the children have been handed over to the care of the Florida Department of Children and Families.