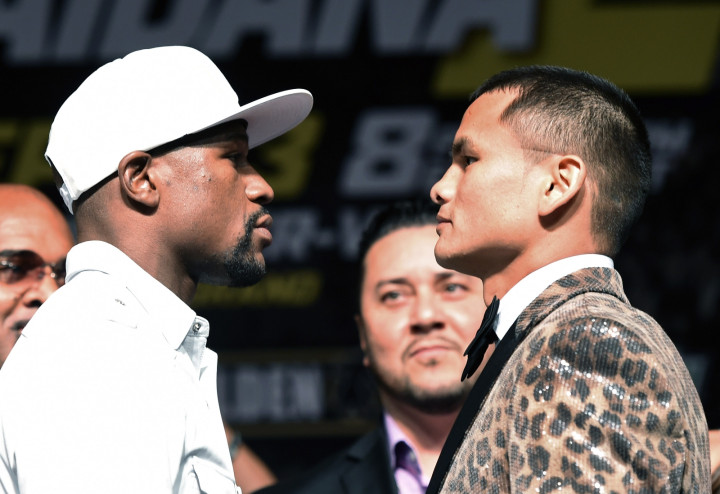 For the second time this year, Marcos 'El Chino' Maidana will attempt to dethrone the pound-for-pound king of the welterweight division.
Only once has Floyd Mayweather Jr agreed to an opponent's demand for a rematch. Rarely has he ever had to even entertain the idea. For that, you have to go back to 2002 when Jose Luis Castillo got his wish.
In their first meeting eight months earlier, before Mayweather morphed into the transcendent giant of the sport he is today, many believed and still believe today that Castillo won that fight. The inevitable rematch was welcomed by many as the logical next move.
Twelve years later, is Maidana's argument even half as strong?
Having been given the nod ahead of Amir Khan earlier this year, Maidana's performance in Las Vegas five months ago was considered one of the unbeaten American's most demanding fights in years.
Judges scored 116-112, 117-111 and 114-114 in Mayweather's favour as he secured his 46th career win via a majority decision, after quelling a tough examination in the opening rounds, but has since rubbished suggestions he was pushed to his limits.
Speaking earlier this week, the 37-year-old claimed he beat the Argentine 9-3 in rounds. Given his dominance of the division, that must be regarded as being as competitive as it gets for the five-weight world champion.
Maidana frustrated and perhaps surprised his opponent in his ferocity, but like others to have taken the challenge he fell to Mayweather's superior speed and counter punching in another clinical display of his unrelenting prowess in the ring.
There was little doubt that Maidana was deserving of his first chance earlier this year. After dismantling the man who once so ostentatiously christened himself the heir to Mayweather's throne in Adrien Broner, he propelled himself to the summit of the division.
That win over Broner in December 2013 was preceded by three consecutive victories – two by technical knockout and the other a clean KO over Martin Angel Martinez – all of which drew nods of approval.
The May 2014 bout was certainly justified in a sporting perspective, but as a meagre total of 900,000 pay-per-view buys state-side suggested, it wasn't at the top of everyone's wish list, especially compared to the mammoth 2.2m Mayweather's clash with Saul Alvarez drew a year ago.
Maidana's team, led by trainer Robert Garcia, have inferred Mayweather chose to take the rematch simply due to a lack of other viable options out there.
Persistent talk of a showdown with Manny Pacquiao, mostly emanating from Top Rank chief Bob Arum, has been dismissed as nothing more than an effort to flog tickets for the Filipino's November meeting with Chris Algieri. Amir Khan's Ramadan commitments earlier this year meant that talk of his attempt to take the crown this year would remain in the realms of fantasy.
Rematches are usually accompanied by an intriguing narrative with the promise for retribution –a case in point being Manny Pacquiao's hammering of Timothy Bradley this year. But it is hard to envision anything other than victory number 47 for the Michigan-born fighter on Saturday.