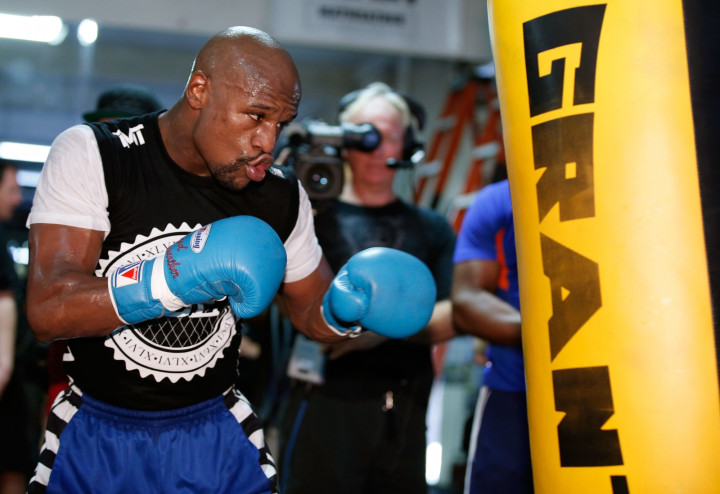 Floyd Mayweather Jr has dismissed suggestions his first fight with Marcos Maidana was a close-run contest and has vowed to win all 12 rounds or knock out the Argentine when they meet again on Saturday 13 September.
Mayweather secured a majority-decision victory over Maidana when the two met in May but "El Chino" won widespread praise for his performance where he surpassed the expectations of many pundits and commentators.
The unbeaten American, who is chasing a record of 47-0 ahead of Saturday's showdown, told Boxing Scene he only agreed to the rematch to appease fans and played down his opponent's performance earlier in the year.
"Well, I think nine rounds to three rounds is a shutout. I'm pretty sure you can go to YouTube and watch the fight," said the 37-year-old.
"Just look at the fight. The fight is not close. But he came out, he won the first round, I won the second round, he won the third and the fourth, and from the fifth one he lost every round.
"So like I said before, I'm going to go out there and I guess get a knockout, win 12 rounds, and look impressive but also be exciting."
Of the rounds he gave to Maidana, Mayweather added the third and fourth only went in the Argentine's favour because he was in "survival mode" after suffering a cut above the eye.
"If I could just recall, I won the second round. He won the first one, but I won the second round, and he won probably the third and fourth, because I know one of those I got headbutted and couldn't see," said Mayweather.
"I was mainly in survival mode until I got back to my corner to Rafael [Garcia], the great cutman. So I gave Maidana three rounds."
Following their 12 rounds in May, judges scored 116-112, 117-111 and 114-114 in Mayweather's favour.