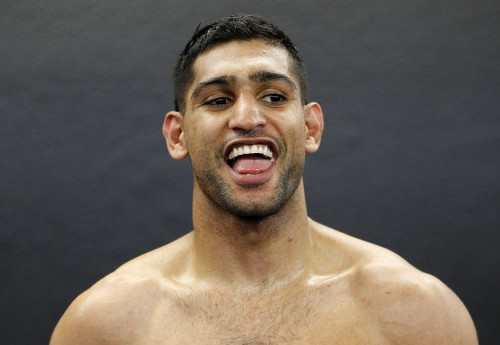 Amir Khan is firmly in the frame to take on Floyd Mayweather in 2014 but an agreement is still a long way off from being met, according to the head of Showtime Sports.
The Bolton-born fighter is hoping to take on the five weight world champion in his next fight scheduled to take place in Las Vegas in May next year and recently announced a bout should be confirmed in the coming weeks.
While admitting the 27-year-old is the leading contender to take on Mayweather, vice president of American sports promoters Stephen Espinoza admits the best pound for pound fighter in the sport is yet decide on who his next opponent will be.
"Khan is definitely one of the leading contenders for the fight," Espinoza said in an interview with the Daily Telegraph. "I know Amir wants the fight. Floyd hasn't made a decision. I expect an announcement by mid-January or by the end of January.
"It is still wide open. Floyd has not made a decision yet about who he is going to fight on May 3. Obviously Marcos Maidana is making a late case and a strong argument for the fight, but Amir is definitely in the conversation."
After stopping Adrien Broner - the self-appointed heir to Mayweather's throne – earlier this month, Maidana is another name in contention along with Timothy Bradley to enter the ring with the unbeaten Mayweather. One name that would appear to be quickly slipping out of contention however is Manny Pacquiao.
Mayweather recently declared he would never step into the ring with the Filipino fighter while his ties with Top Rank promotions are still intact, with the 36-year-old still holding a grudge after his acrimonious split with Bob Arum's company in 2006.
Espinoza has echoed those sentiments, believing the history between the parties involved means a super-fight between Mayweather and Pacquiao is growing increasingly unlikely.
"I'd like to say I'm optimistic but there is a lot of politics involved," Espinoza said. "(There is) a lot of history to resolve. Unfortunately, until Manny Pacquiao changes his promotional representation, I'm not optimistic that it can happen.
"I know Floyd is not the issue. Floyd wants the fight. Floyd will fight Manny Pacquiao anywhere, any time. Unfortunately, there is a promotional conflict which is the issue."