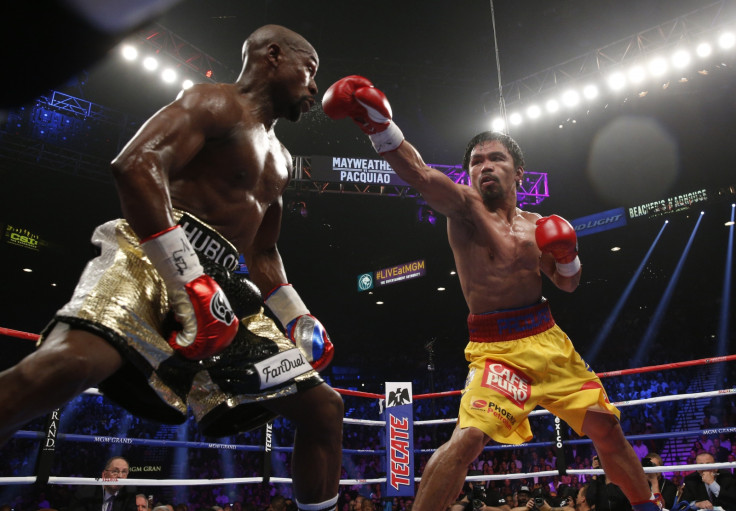 Plaintiffs who argue they were defrauded when they paid to watch Floyd Mayweather beat Manny Pacquiao on pay-per-view television will have the chance to put their case to a federal judge in California. The icon from the Philippines went into the fight in Las Vegas on 2 May with an injured shoulder and now Judge R Gary Klausner will decide if the cases are granted class-action status before trial proceedings begin.
At least 32 lawsuits had been filed before the end of May from across America, arguing Pacquiao's injury was not revealed until after the 4.4 million viewers had already paid up to $100 (£63.95) to watch the bout. HBO and Showtime have said they earned more than $400m from the fight, while Mayweather and Pacquiao both pocketed over $100m.
Pacquiao and his promoter, Top Rank, were named in all the filed lawsuits, while Mayweather and his promoters, HBO and Showtime are also mentioned in several of the papers. Lawyers representing Pacquiao and Top Rank have already said the claims are without merit in court filings.
Klausner has been tasked with ruling on all claims after a panel of judges that decides whether to consolidate similar claims brought in different jurisdictions opted for the case to be heard in the Central District of California, according to the Associated Press. That is where Pacquiao is said to have sustained the injury.
The US Judicial Panel on Multidistrict Litigation has said the facts of the case are complex enough to warrant consolidating the related cases into one hearing, and determining the severity and timing of the boxer's injury will require "significant factual, and possibly expert, discovery".
Should Klausner decide in favour of the plaintiffs, they will be a step closer to recovering their pay-per-view money from the highest-grossing fight in boxing history.