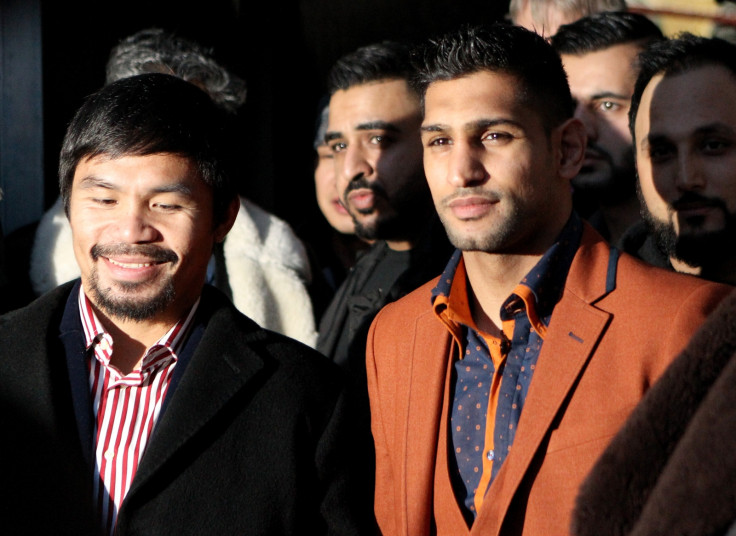 Amir Khan could be on track for a high-profile bout against Manny Pacquiao after being snubbed by Floyd Mayweather, according to the latest comments from promoter Bob Arum.
After recording a comfortable points victory over long-time rival Pacquiao at the MGM Grand in Las Vegas earlier this year, Mayweather is set to return to the ring for what will be the final instalment of his six-fight Showtime contract – and likely his illustrious career – on 12 September.
While Khan appeared to push hard to secure that contest – along with the likes of Gennady Golovkin, fellow British welterweight Kell Brook and Shawn Porter – widespread rumours suggested that 'Money' was likely to spurn their advances and instead choose between little-known Karim Mayfield or former WBC and IBF champion Andre Berto.
Berto, who has bounced back from a run of three defeats in four matches to Victor Ortiz, Robert Guerrero and Jesus Soto Karass to win on his last two outings, eventually got the gig but that decision has been met with a decidedly underwhelmed reaction from boxing fans, who feel Khan's presence would have made for a far more intriguing spectacle.
Arum previously revealed in May that he had been approached by a delegation from Dubai over the possibility of staging a bout between the Olympic silver medallist and Pacquiao in the Middle East next year, and claims the fight is now available.
"This kid Amir Khan keeps shooting his mouth off about Manny Pacquiao. I can arrange for Khan to fight Pacquiao," he told The Telegraph. "Amir Khan has been begging Mayweather for a fight and now he can get a major fight. I'm not a hard guy to deal with. I'm not going to mess them around. One thing's for sure, Pacquiao is not ducking Khan. Pacquiao will fight him. I don't know if Khan will fight Pacquiao, but it's available."
However, while Arum was enthusiastic about the prospect of Pacquiao meeting Khan and spoke positively regarding the former's chances of emerging victorious, he stressed that any fight will not take place in 2015 with 'Pacman' forced to undergo surgery on the right shoulder injury that sparked controversy following his defeat to Mayweather.
"Manny's not going to fight this year," he added. "He'll fight early next year and probably in the Middle East. Vegas is a possibility, but more likely in the Middle East. It won't be in Dubai but it will be in the Middle East. If not, we'll do it in Vegas.
"There's two different groups in the Middle East [wanting to host the fight]. I'd like to do Pacquiao against Amir Khan but they'll take Manny against any decent guy. It's a good fight. Manny beats him, though, in my opinion. Manny is getting up in age, so you never know what's going to happen. But I think he hits too hard for Khan. We're not dangling [an offer for Khan like Mayweather did]. I want to go in and make a deal with the guy. I'm happy to have lunch with them and discuss the situation."
WBC silver welterweight title-holder Khan's current record stands at 31 wins and three losses from 34 professional fights and his last victory came against journeyman Chris Algieri in Brooklyn.