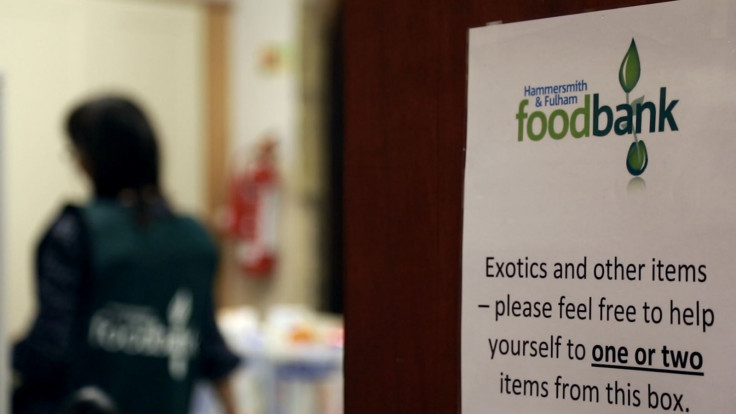 British families that use food banks are reporting "increasing distress and anger" as they see their incomes "catastrophically collapse", according to the chair of the Trussell Trust.
Chris Mould also warned that his charity, which runs a network of food banks in the UK, has seen "very disproportionate decisions" on benefit sanctions "spread right across country".
But Mould decided not to put an estimate on number of food bank users specifically hit by benefit sanctions during the Work and Pensions Committee evidence session.
The Trussell Trust, which runs a network of over 400 UK foodbanks, revealed that the number of people helped by their foodbanks in the first half of the 2014/15 financial year is 38% higher than numbers helped during the same period last year.
More than 492,000 people were given three days' food and support, including 176,565 children, between April and September 2014, compared to 355,982 during same period in previous year.
Problems with the social security system continue to be the biggest overall trigger for foodbank use (45%), of which "benefit delays" accounted for 30% of referrals, and "benefit changes", 15%.
However, a "new emerging trend" is that 22% of those helped were referred because of 'low income' compared to 16% of referrals in the same period last year – in real terms, this means that 51,000 more people were referred to a foodbank due to low income.
The figures come after a report from MPs and the Church of England called on the government to deliver benefits within five working days to help tackle food poverty and decrease the number of people relying on food banks.
The All-Party Parliamentary Inquiry into Hunger in the UK, which is backed by the Archbishop of Canterbury Justin Welby, also recommended that the Department for Work and Pensions introduce a "yellow card" system, where claimants are warned of possible sanctions.
"This report is a serious contribution to an important debate, and recognises that the reasons behind demands for emergency food assistance are complex and frequently overlapping," a Cabinet Office spokesperson said.
"As a country we have enough food to go around, and we agree that it is wrong that anyone should go hungry at the same time as surplus food is going to waste. There is a moral argument as well as a sustainability one to ensure we make the best use of resources.
"While this report outlines important areas for consideration, we should remember that this country has been through the deepest recession in living memory, and sticking to this Government's long-term economic plan is the best way to improve living standards."