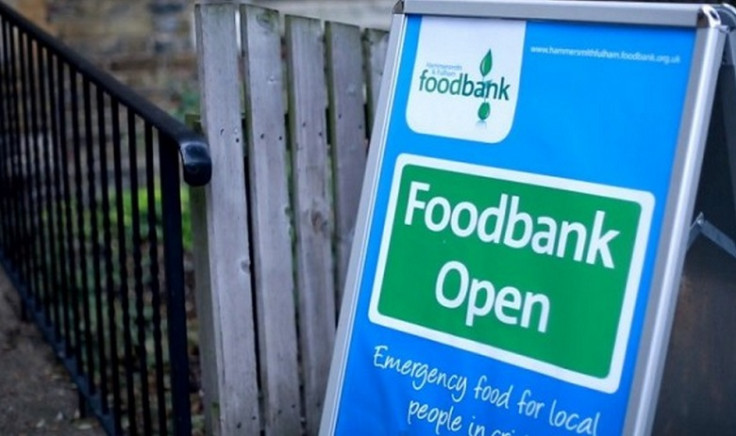 The UK government should deliver benefits within five working days to help tackle food poverty and decrease the number of people relying on food banks, according to a cross-party group of MPs.
The All-Party Parliamentary Inquiry into Hunger in the UK, which is backed by the Archbishop of Canterbury Justin Welby, also recommended that the Department for Work and Pensions introduce a "yellow card" system, where claimants are warned of possible sanctions.
The idea received support from the Deputy Prime Minister, Nick Clegg.
"There is some evidence that people who are subject to benefit sanctions end up using food banks for a temporary period of time," the Liberal Democrat leader told BBC1's Andrew Marr programme.
"I think that while it is, of course, necessary to have sanctions in the benefit system, I think we should introduce a traffic light system so that some of the sanctions are not imposed quite as overnight as they sometimes are. That might help alleviate some of the problem."
The Feeding Britain report, which aims to end hunger in the UK by 2020, also wants Iain Duncan Smith's department to Extend and improve take up of discretionary payments when benefit delays occur.
"It is time to review the fundamental values that led to the creation of our welfare state. The rise in food banks indicates a deeper problem in our society; the "glue" that used to be there is no longer there in many instances," said the Rt Rev Thornton.
The Trussell Trust, the biggest provider of food banks in the UK, blamed the increased use of the outlets on the increasing cost of living and benefit reforms.
The organisation has seen the number of its food banks rocket from 40,898 outlets in 2009/10 to 913,138 in 2013/2014.
"This report is a serious contribution to an important debate, and recognises that the reasons behind demands for emergency food assistance are complex and frequently overlapping," a Cabinet Office spokesperson said.
"As a country we have enough food to go around, and we agree that it is wrong that anyone should go hungry at the same time as surplus food is going to waste. There is a moral argument as well as a sustainability one to ensure we make the best use of resources.
"While this report outlines important areas for consideration, we should remember that this country has been through the deepest recession in living memory, and sticking to this Government's long-term economic plan is the best way to improve living standards."