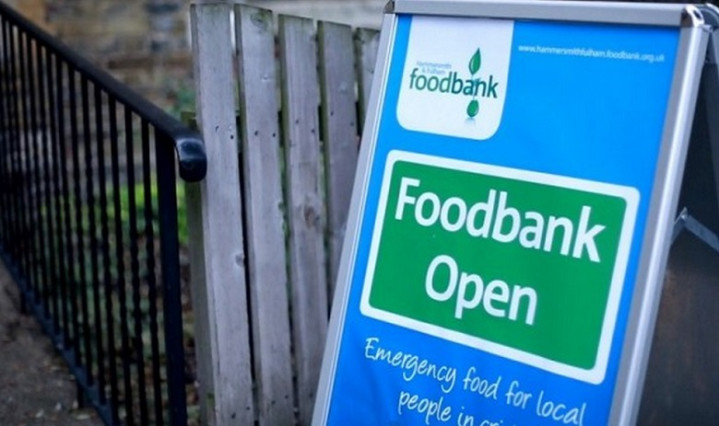 Gaps in the UK's social security safety net are forcing people to turn to food banks, according to a major study from a group of charities and the Church of England.
Oxfam, Child Poverty Action Group, Church of England and The Trussell Trust found that most food bank users have severe personal financial crises and only turned to food banks as a last resort when other coping strategies had failed.
The group's report, Emergency Use Only, which interviewed 40 food bank users at seven Trussell Trust food banks and used additional data collected from more than 900 recipients, also found that for between half and two thirds of the users the immediate trigger for food bank use was linked to problems with benefits or missing tax credits.
"Food banks are both a lifeline for people at a time of crisis and a symptom of fundamental failure in our society," said Rachael Orr, head of Oxfam's UK Poverty Programme.
"This report gives a voice to food bank users in the UK and highlights relatively simple policy changes that could significantly reduce food bank use.
"MPs and their party leaders can't solve individuals' personal problems but they can and should act to provide an adequate safety net for those at a time of crisis."
The research also revealed that many food bank users faced multiple challenges, including ill-health, relationship breakdown, mental health problems or substantial caring responsibilities.
A majority of recipients were unable to work or had recently lost their job and the frequency of bereavement among food bank users was also a striking feature of this research.
Use of emergency food aid in the UK, particularly in the form of food banks, has dramatically increased over the last decade.
Figures from The Trussell Trust showed that numbers receiving three days' food from their food banks rose from 128,697 in 2011/12 to 913,138 in 2013/14.
"This new evidence brings into sharp focus the uncomfortable reality of what happens when a 'life shock' or benefit problem hits those on low incomes: parents go hungry, stress and anxiety increase, and the issue can all too quickly escalate into crippling debt, housing problems and illness," said David McAuley, the chief executive of Trussell Trust.
"The Trussell Trust has consistently said that too many people are falling through gaps in the social security system.
"The voices of food bank users heard in this report have informed the united call from four respected anti-poverty bodies to implement simple fixes to the welfare system. We welcome the opportunity to engage positively with politicians of all parties in order to work together to enable solutions for the poorest in the UK."
But the UK government dismissed the report and claimed it used "self-selecting" data.
"The report itself concludes it can't prove anything – it uses self-selecting data and recognises there are complex underlying issues," a Department for Work and Pensions spokesperson said.
"We have a strong safety net in place, spending £94bn a year on working-age benefits, and we provide a wide range of advice and assistance for anyone in need of additional support."