More than 20 million meals were handed out by food banks and food aid charities last year, according to a report from Oxfam, Church Action on Poverty and The Trussell Trust.
The research revealed that the number of people who could not afford to feed themselves and received food packages rose by 54% on 2012/13.
The Below the Breadline report argued that the "massive rise" in meals handed out by food banks and food aid charities is a "damning indictment of an increasingly unequal Britain".
"Food banks provide invaluable support for families on the breadline but the fact they are needed in 21st century Britain is a stain on our national conscience," said Mark Goldring, the chief executive of Oxfam. "Why is the government not looking into this?"
He added: "We truly are living through a tale of two Britains; while those at the top of the tree may be benefiting from the green shoots of economic recovery, life on the ground for the poorest is getting tougher.
The study also found that a "perfect storm" of changes to the social security system, benefit sanctions, low and stagnant wages, insecure and zero-hours contracts and rising food and energy prices are all contributing to the increasing numbers of meals handed out by food banks and other charities.
For example, the research explained that food prices have increased by 43.5% in the past eight years.
During the same time the poorest 20% have seen their disposable income fall by £936 a year, the report warned.
People using food banks who are featured in the report spoke of the struggle to feed themselves and of deteriorating health.
A government spokesman said: "It's simply not possible to draw conclusions from these unverified figures drawn from disparate sources. They cover a wide variety of provision including food redistributed to places such as community cafes, lunch clubs for the elderly and children's breakfast clubs which are frequented by all sorts of people.
"This report also overlooks basic facts about the strength of our welfare system. We provide a vital safety net, spending £94bn a year on working age benefits to support millions of people who are on low incomes or unemployed.
"As part of our long-term economic plan we're fixing the welfare system to improve the lives of some of the poorest families in our communities by promoting work and helping people to lift themselves out of poverty.
"We've also helped families by cutting the cost of living, more people are in work helping to support their family, benefits are being paid to claimants more quickly and according to independent experts fewer people report struggling with their food bills compared with a few years ago.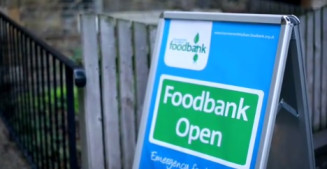 The findings come after a Department for Environment, Food and Rural Affairs commissioned report, which was conducted by the University of Warwick and the Food Ethics Council in February to March 2013, found there is "growing demand" for help to meet food needs.
The study also revealed that the key drivers of the growing demand are described by providers as "crises".
The report explained crises in household income, such as loss of a job or problems with social security benefits, are often underpinned by on-going problems of low income, rising food and other costs and increasing indebtedness.
The research also revealed that the growing demand in food banks may have contributed to more food aid being provided, through existing and new structures.