Ford generated some UK publicity for its Sync system, recruiting comedian Jimmy Carr and chat show host Jay Leno to demonstrate the in-car Wi-Fi available through Sync.
Sync, which is currently only available in the US, has a whole host of features, including Bluetooth pairing and the ability to broadcast a Wi-Fi signal for passengers to use the internet while on the move.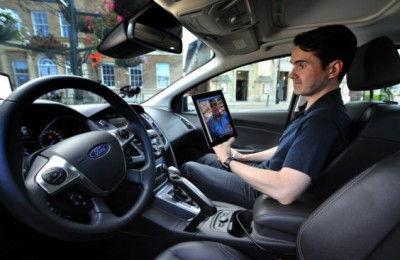 "It's great to do something that is cutting-edge, to chat about cars and gadgets and have a laugh," Carr said.
Carr and Leno used the Sync system to chat with each other over a video call using two Apple iPads; Carr, host of '8 Out of 10 Cats' was in Norfolk, while Leno was parked in the same model of Ford in Hollywood, California.
Leno, who owns dozens of cars ranging from a £2 million McLaren F1, to his famous 'Tank Car', said: "Bad cars don't really exist so car makers are looking for ways to make their models stand out. The place we spend more time than anywhere except our house or office is the car. It's not a surprise people want the same gadgetry there."
Ford Sync focuses on voice commands from the driver, and can recognise 10,000 vocal directions in 19 different languages. These directions can control the radio, satnav, telephone and even ask the system to read out the latest news and sports results.
Keeping the driver's hands on the wheel is the aim, letting voice commands do everything that drivers use to do with a spare hand. Sync can also alert the emergency services if it detects a crash, using the cars GPS coordinates to help rescuers locate the car.
Sync will make its European debut on the Focus, due out in 2012.