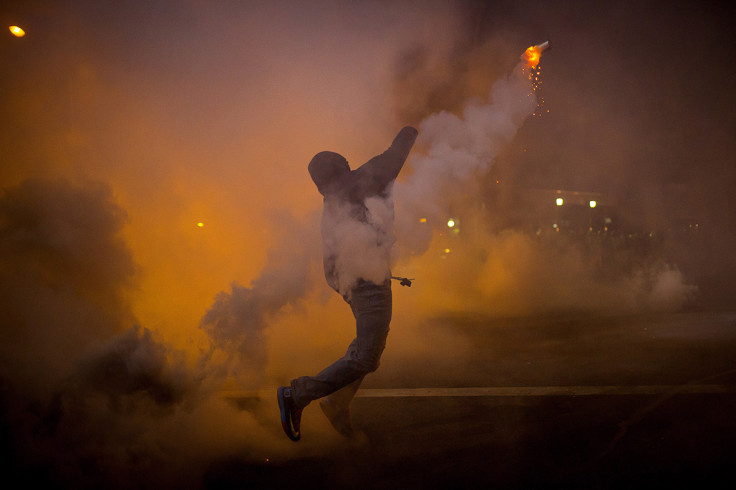 The internet has allowed the world to watch events in Baltimore to unfold in real time, while letting activists, authorities and the news media join in with coverage and analysis of rioting that followed the death of unarmed black man Freddy Gray in police custody.
The web also provides a global forum and an unprecedented opportunity for America's adversaries abroad to put their own spin on events for a US audience, using the riots to attack US claims to be a standard bearer for democracy and human rights.
Iran has long been keen to claim fellow cause with black America, arguing both are victims of the brutality of the US government. The country claims black Americans are victims of police racism and Iran of aggressive US foreign policy.
Iran's supreme leader Ayatollah Khamenei wasted no time in condemning US authorities following the death of Gray.
"It's ridiculous that even though US president is black, still such crimes against US blacks continue to occur," read one in a series of tweets from an account regarded as Khamenei's English language mouthpiece.
"US police kill people over any excuse and get acquitted in court of law; this type of power doesn't ensure security but leads to insecurity," he continued.
US relations with Russia currently stand at their lowest point since the Cold War and though the Kremlin offered no formal statement on events in Baltimore, pro-Vladimir Putin nationalists attacked the US as chaos descended in the city.
"The will of the people for freedom will not be denied!" tweeted activist Maria Katasonova, with a picture of protesters holding aloft signs in Cyrillic script calling for Obama's to "get out".
Even the propaganda wing of jihadist group Islamic State (Isis) attempted to spin events in Baltimore, claiming black rights were respected in the group's so-called caliphate in Syria and Iraq.
"Different languages, different colours, different nationality, but one God," read a tweet from one pro-Isis account.
The US takes online propaganda attacks by its foes increasingly seriously. In recent months, a special task force was convened to formulate ways to counter IS's propaganda campaigns and US senators are pushing for Congress to actively counter state sponsored Russian propaganda.