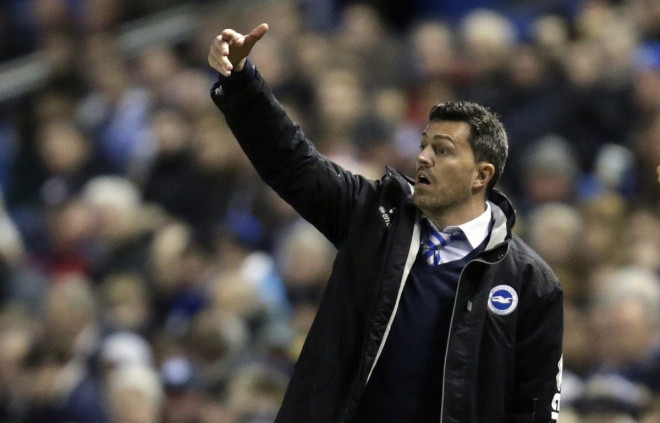 Former Barcelona star and Brighton manager Oscar Garcia Junyent has told IBTimes UK that "special" Louis Van gaal will adapt easily to Manchester United – and help them recover their pre-eminance in the Premier League.
Oscar played under Van Gaal during his first spell at Barcelona and even though he left the Nou Camp due to lack of playing time, he retains fond memories of working under the Dutch boss.
The former midfielder, who resigned as Brighton manager after their Championship play-off semi-final defeat, spoke to IBTimes UK about how van Gaal will adapt to Old Trafford.
"I am sure that his ideal outcome will be to bolster the squad and fight for the Premier League title again, this is what a such a big team should do," Garcia told us.
"I have tried to learn from every manager and everyone has good and less good things. Van Gaal is special, different from most of the other coaches I had.
"Van Gaal is very straight, speaks to your face and has very clear ideas. He loves the discipline. He is sure about how he wants his teams to play and treats everyone equally, no matter who it is. He is not the typical English manager because he likes to involved a lot in the training session."
Questioned about van Gaal's adaptation to the English football, Garcia said: "He has always wanted to coach in the Premier League. He has been at other big clubs and I have no doubt that he will know how to deal with United job.
"He has an offensive style because he came from Ajax, but at the same time he always wants a lot of organization when the team needs to recover the ball."
"I am sure he wants a long-term project. He will see his squad and then decide who need to sign. Normally he uses the 4-3-3, but he could introduce some variations."
Back in 1999 a famous rift between Oscar and van Gaal erupted during a training session, with the current United boss screaming at his player while saying: "You don't have rhythm".
Oscar recalled the incident by revealing that "everyone reminds me [the argument], but we eventually had a normal relationship. Indeed, I met him later and we talked."
Asked whether van Gaal prefers hard-workers to the sort of talented player he was, Oscar said: "He likes a player with tactical discipline.
"But he has always had talented players too. He wants players to be committed to the team."