EU law has "seriously undermined" Britain's combat effectiveness due to its encroachment on national law, a former SAS commander has said. General Sir Michael Rose is one of a dozen retired senior military leaders to come out in favour of a Brexit ahead of the EU referendum on 23 June.
"Sovereignty and defence are indivisible. European law, in my view, has already seriously undermined UK's combat effectiveness as a result of the intrusion of European law into national law. And today, our servicemen and women are in danger of becoming no more than civilians in uniform," Rose said in a statement.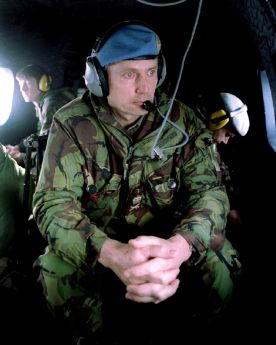 He added that Nato – not the EU – should remain as the bedrock of European security. "I believe that the UK's contribution to European defence can manifestly be better made solely through Nato than by trying to spread our limited resources too thinly in order to include European defence and security policy initiatives into UK's defence programme," he said.
The former commander – who was wrongly included on a Downing Street list of military top brass supporting continued EU membership in February – has thrown his weight behind Veterans for Britain, a campaign group encouraging serving and retired military personnel to vote for a Brexit.
Lieutenant General Jonathon Riley, who served as deputy commander of Nato forces in Afghanistan between 2007 and 2009, said the organisation should continue to underpin European security and warned against an EU army, which would undermine the alliance.
"In my view, anything that weakens that alliance will diminish our security," said Riley. "The attempts by the EU to set up its own operations, security structures and even armed forces takes resources away from the one organisation that really protects us.
"And could the EU have mounted an operation on the scale of the Nato interventions in Bosnia, Kosovo, Afghanistan and Libya? I think not," he added.
Falklands veteran, Major General Julian Thompson, urged voters to take back control from Brussels. He said: "The result of this referendum will determine irrevocably what kind of country we, our children and our grandchildren will live in.
"Either Great Britain will remain in the EU, dominated by people who we do not elect, who we cannot throw out and who dictate many of the laws which govern us, or we will take back control and return to what we were: an independent country in which our parliament is elected by us, and answerable to us as the lawmaker."
Defence Secretary Michael Fallon warned that a leave vote would signify "payday for Putin". He said a Brexit would be "an extraordinarily irresponsible thing to do and a very dangerous moment to do it. Putin would certainly be voting Leave."