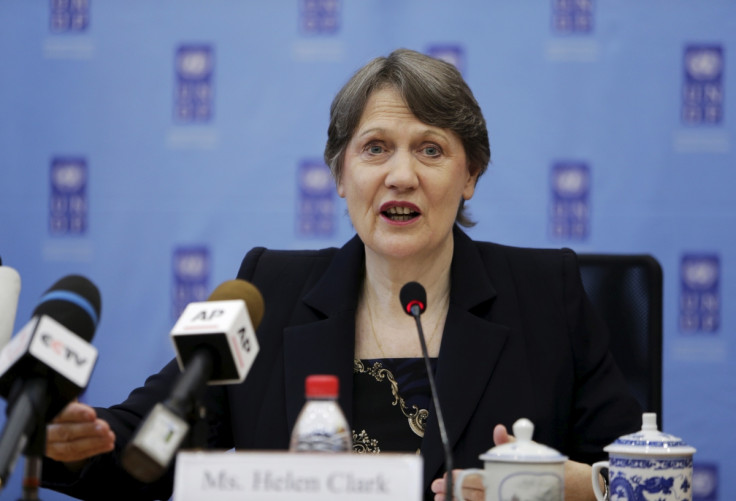 Former New Zealand prime minister Helen Clark has joined the race to become the eighth secretary-general of the United Nations. If elected, she will become the first woman to head the global organisation. The term of Ban Ki-moon, the current secretary-general, ends in 2016.
New Zealand Prime Minister John Key nominated Clark for the top post, according to The Guardian. Clark has headed the UN Development Programme (UNDP) for seven years. Several budget cuts announced by her during the period, it is believed, may fetch her significant support from the US, one of the biggest donors of the programme.
Clark is seen as a strong contender because of her ability to deal with odds, which she proved during her tenure as prime minister of New Zealand between 1999 and 2008, the newspaper said.
Addressing a press conference to announce her candidacy, Clark said the UN faced "very serious challenges" and she possesses the skills to deal with such challenges. "The position of secretary-general is about giving a voice to 7 billion people who look to the UN for hope and support," she was quoted as saying.
Amid calls from the UN top brass for electing a women secretary-general to promote gender equality, Clark said she "never sought election as a woman." But she added: "In the normal course of events I would like to see women have a fair chance, an equal chance at every leadership position."
Replying to a question on reducing the power of the five permanent members of the UN Security Council, Clark diplomatically said, "I acknowledge the importance of the P5, as I acknowledge the importance of every member state."
Four male and four female candidates are in the fray for the secretary-general's race this year. They are: Former UN General Assembly president Srgjan Kerim, Montenegro's Foreign Minister Igor Lukšić, former Portuguese prime minister António Guterres, former Slovenian president Danilo Türk, UNESCO director-general Irina Bokova, Croatian Parliament Deputy Speaker Ve Pusić, former Moldova foreign minister Natalia Gherman and Clark.
The election process is said to be different from the previous ones, with efforts to make voting more transparent. Earlier elections were held behind closed doors by the Security Council after which, the names were submitted to the general assembly for ratification.
The eight candidates are to face a grilling in the Trusteeship Council of the UN in New York. They will take questions from ambassadors of the member states, a select group of NGOs, businesses and individuals from outside the organisation. They will also participate in two public meetings – in New York on 13 April and in London on 3 June.
More from IBTimes UK