Former PM Gordon Brown warns Labour over Corbyn leadership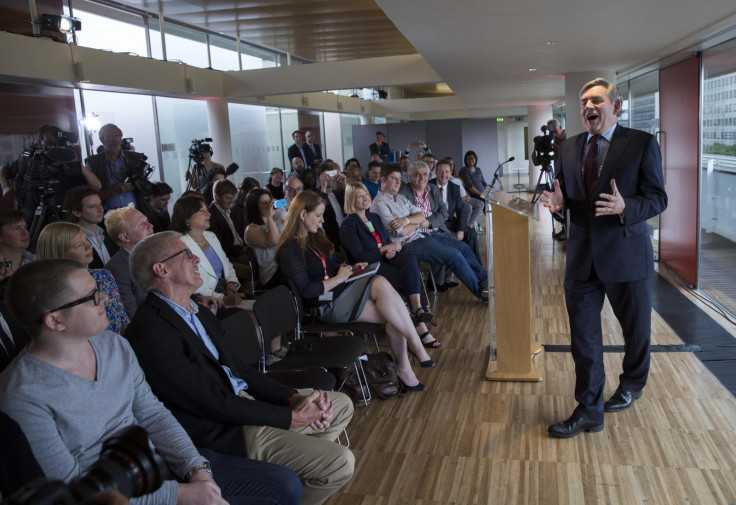 Former UK Prime Minister Gordon Brown waded into the Labour leadership contest today, 16 August, telling the party that it must become "credible" and "electable" once again in order to change people's lives. The televised speech has been widely interpreted as an attempt to convince Labour members and supporters to not vote for Jeremy Corbyn, despite Brown saying he did not want to attack any candidate.
"The best way of realising our high ideals is to show that we have an alternative in government that is credible, that is radical, and is electable – is neither a pale imitation of what the Tories offer nor is it the route to being a party of permanent protest, rather than a party of government," Brown told an audience at London's Southbank Centre.
In spite of a concerted effort not to refer to Corbyn by name, Brown's 50-minute speech made it clear that he did not agree with many of the popular candidate's social and economic policies.
Brown said Labour must take lessons from its own history and that Labour policies can only be implemented if it is elected. He conceded that the party was "grieving" after the Conservatives won a majority in May and warned, "There is one thing worse than having broken hearts, it is powerlessness".
Brown's comments come after Tony Blair warned that Labour faces "annihilation" if it elects Corbyn as Ed Miliband's successor.
Labour's Corbyn problem
More than 600,000 members and supporters of Labour may vote in the leadership election. They must choose between four candidates: Andy Burnham, Yvette Cooper, Jeremy Corbyn and Liz Kendall.
A ComRes survey published today, 16 August, in the Sunday Mirror shows that 36% of respondents thought that Corbyn would harm the UK's economy if he became prime minister in 2020, compared to 14% who thought he would improve it. But 31% thought Labour's chances of a general election victory that year would deteriorate if Corbyn was the party's leader, while 21% said that the party's prospects would improve – the highest score of any of the candidates.
"Jeremy Corbyn is very much the Marmite candidate of four MPs standing for the leadership," said ComRes spokesman Adam Ludlow. "He receives both the most positive and the most negative opinions of how electable he is.
"Many Brits either are not sure who his rivals are or they think they would not make much of an impact to Labour's chances of winning the next election," he said. "Corbyn, though, receives the highest proportion of both the public and Labour supporters saying he would improve Labour's chances – and the highest proportion saying he would worsen them."
Andy Burnham asserted that he is the only candidate who is capable of blocking favourite Jeremy Corbyn and preventing a destructive split within the party. "I'm the only person in this race who can beat Jeremy," he said.
The survey results showed 19% of people thought Labour's chances to win would improve under Burnham (while 14% said it would fall), 15% said Cooper is Labour's best bet as an electable candidate, while the Blairite Kendall came last on 11%.
"In the 80s, we started fighting each other and left the way clear for Margaret Thatcher to bulldoze her way through Labour communities," said Burnham. "I'm not going to let that happen this time."
© Copyright IBTimes 2023. All rights reserved.