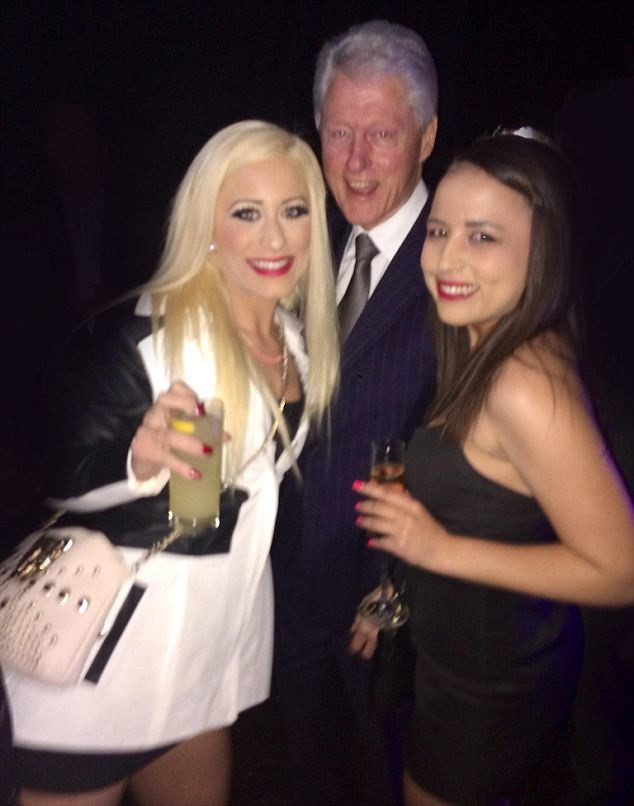 Bill Clinton has been pictured posing with two prostitutes at a recent charity event.
The former president was in Los Angeles on Thursday attending the Unite4:Humanity event where he was giving the keynote address.
He was also presented the Unity Award by Oscar winning actor Forest Whitaker.
Staged in the lead up to the Oscars, Clinton joked that he was the warm-up act for Sean Penn, who later presented De Niro with the creative commitment in film award.
Among the attendees eager for a picture with the former president were legal prostitutes Ava Adora and Barbie Girl, who work at the Bunny Ranch brothel in Nevada.
They attended the event with Bunny Ranch owner Dennis Hof and porn star Ron Jeremy.
On her Love Ranch profile, Ava Adora introduces herself saying: "Beyond my physical attributes, I know I can make a great friend, intellectual and funny companion, and passionate lover,.
Barbie Girl, who specializes in throwing "de-virginizing parties," said she brings her "flexibility skills into the bedroom for some crazy fun sex positions and get offs."
Clinton, who faced impeachment after an affair with intern Monica Lewinsky while he was still in the White House, is seen beaming in the photo with the two women.
It wasn't just the prostitutes who posed with the ex-president. Robert Kennedy Jr, his girlfriend Cheryl Hines and actress Julia Louis-Dreyfus took turns to get snapped with the charismatic 67-year-old.
Singer and TV talent show judge Demi Lovato also took a selfie with Clinton and shared the photo with her 21 million followers.
"Too excited to filter this... NO BIG DEAL - #Selfieswiththeprez.... @billclinton - so nice to meet you!!!!" she wrote.