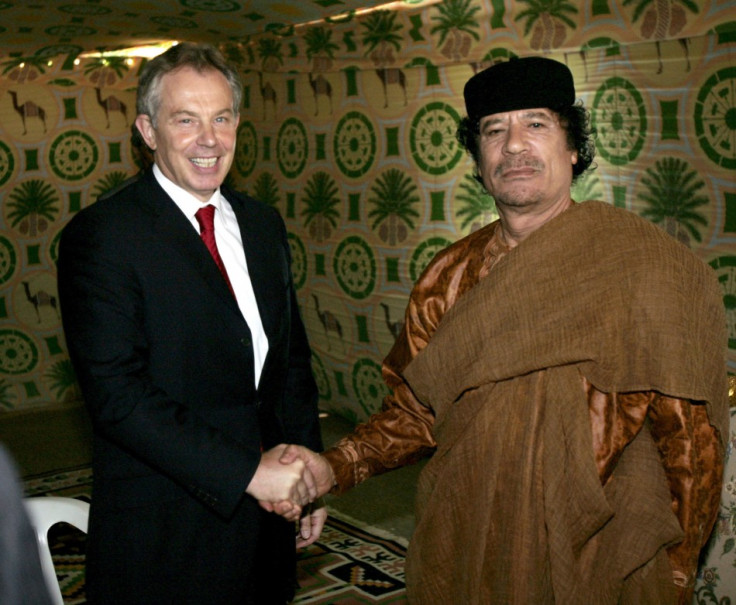 Former Prime Minister Tony Blair is to be quizzed over his ties to the regime of deposed Libyan dictator Muammar Gaddafi. Blair will appear before MPs in early December.
Blair will appear before the Commons Foreign Affairs Committee to face questions over a deal negotiated by the UK and Libya in the wake of the 9/11 attacks, in which Libya relinquished weapons of mass destruction in exchange for reopening diplomatic ties with the West, the Independent reported. The deal struck by Blair a year after the 2003 invasion of Iraq sparked condemnation from those who said Gaddafi should be brought to justice for Libya's role in downing Pan Am Flight 103 over Lockerbie in 1988, killing 270 people.
After Gadaffi was ousted by a western backed uprising in 2013, documents were recovered showing that the UK had aided with the rendition of a dissident to Libya who claims he was was subsequently tortured by security services. The UK's Supreme Court is to decide whether a lawsuit brought by Abdul-Hakim Belhaj can be heard in a UK court.
Committee chairman Sir Crispin Blunt told the Independent: "The policy construct inherited in 2011 was Blair's. He was the one who reset Libya – it was his signal achievement, he claimed, to disarm Colonel Gaddafi of his weapons, his WMDs."
He said the Gaddafi has been allowed to "buy himself out of the sanctions" regime imposed on Libya for its support for terrorism.
Blair is alleged to have travelled to Libya, after quitting as prime minister, to broker a deal which saw the families of British victims of terror attacks by Gaddafi-linked organisations, including the IRA, frozen out of a compensation deal. In emails released by former US Secretary of State Hilary Clinton in October, it is revealed that Blair spoke to Gaddafi on the telephone a number of times after the 2011 uprising in order to broker a peace deal, and urged Clinton not to "humiliate" Gaddafi.