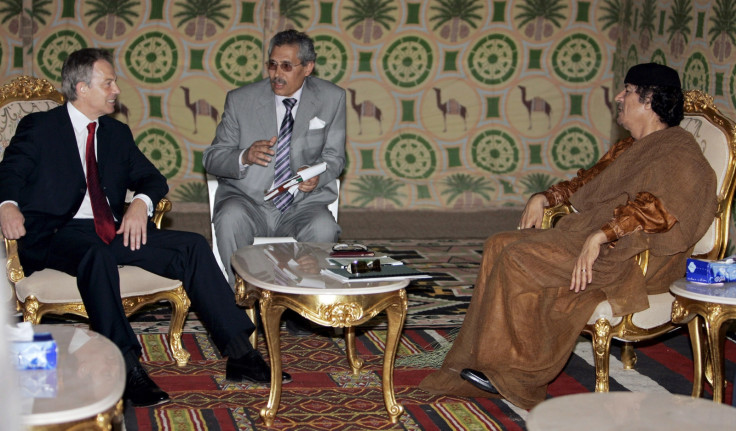 Tony Blair allegedly tried to save former Libya dictator Muammar Gaddafi before the 2011 allied bombing of the country, it has been claimed. A new biography of David Cameron said the former Prime Minister had called Downing Street saying that he had been contacted by "a key individual close to Gaddafi" who wanted to "cut a deal".
The book – Cameron at 10 by Sir Anthony Seldon – claims that Mr Cameron decided not to pursue the approach because he did not want to do "anything which might be seen to give the Libyan leader succour". The long-time Libyan ruler would later be killed by rebels on the streets of Sirte, where he was born.
The chairman of the Foreign Affairs Committee which is carrying out an inquiry into the Libya campaign hinted that it may ask Mr Blair to clarify his involvement. Crispin Blunt also said that the former Labour prime minister could provide further information on previous government policies when he supervised a highly contentious rapprochement with the Libyan leader in 2004.
"Any inquiry would have to have a look at that, and then the suggestion that he made an intervention during the course of 2011 certainly strengthens the case for having him come and give evidence," Mr Blunt said. He also emphasised that the committee would look at Mr Blair's actions without preconceived ideas. "We should avoid rushing to judgment," he told the Press Association. "We do not arrive at the start of this inquiry with a conclusion in mind."
Conservative MP for Stratford-on-Avon Nadhim Zahawi told The Times: "With these revelations, we should be pushing for Blair to come and explain as part of the inquiry. He also said that Mr Blair "clearly felt that it was an important thing to communicate to No 10" and added that "if this is true then we need to better understand what happened." Mr Zahawi also sits on the Foreign Affairs Committee.
The book also contains a series of potentially embarrassing disclosures for Mr Cameron. Former MI6 chief John Sawers said that the intervention in Libya was for "humanitarian reasons" rather than the country's "national interest". Furthermore, Mr Cameron reportedly became so fed up with Boris Johnson publicly agitating for his job that he told him to "f****** shut up" or Ed Miliband would become Prime Minister.