Former Rwandan intelligence chief Pascal Simbikangwa has been sentenced to 25 years in prison for his part in the 1994 genocide that left 800,000 people dead.
A French court convicted Pascal Simbikangwa, 54, of complicity in the genocide and of crimes against humanity after a six-week trial, during which the former captain of Rwanda's presidential guard was described as a "genocide denier" and steeped in "extremist Hutu ideology".
Simbikangwa, who is wheelchair-bound after a 1986 car accident left him paralysed, denied the charges and said he was the victim of a "witch hunt".
The prosecution said Simbikangwa gave detailed instructions about which Tutsi families and political opponents to kill and how they should be murdered. He was also accused of helping to supply arms to ethnic Hutu militia groups, who set up road blocks around Rwanda's capital Kigali in 1994.
Simbikangwa was said to have been in the "first circle" of Hutu power at the time of the genocide and was one of the main shareholders in Free Radio-Television des Milles Collines, nicknamed "Radio Machete" due to its role in encouraging Hutus to target Tutsis and moderate Hutus.
The former spy chief's lawyer Fabrice Epstein said the judgment was politically motivated and added that he is considering an appeal.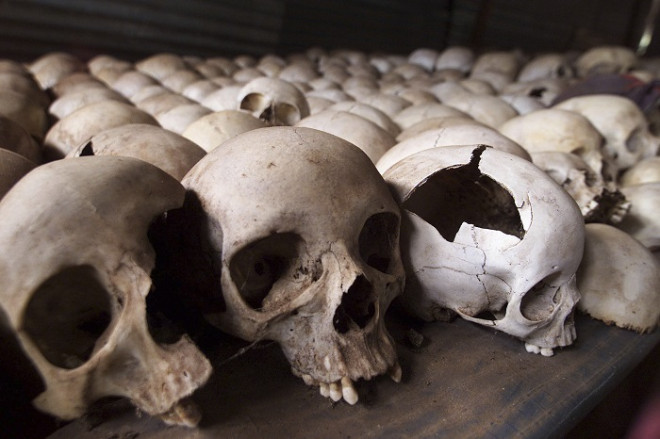 France has repeatedly refused requests from the Rwandan authorities to extradite Simbikangwa, who was arrested in 2008 on the French Indian Ocean island of Mayotte, where he had been living under a false identity.
The 1994 genocide was prompted by the shooting down of a plane carrying Rwandan President Juvénal Habyarimana and Burundian President Cyprien Ntaryamira as it prepared to land in Kigali.
Between 7 April and 17 July, hundreds of thousands of Tutsis and moderate Hutus were slaughtered by members of the Hutu majority. Many were killed with machetes.
A 2010 Rwandan government report concluded that President Habyarimana was killed by Hutu extremists, who used the assassination as a pretext for the mass murder of members of the Tutsi ethnic group.
France has also been implicated in the genocide, with Rwanda accusing Paris of training and arming Hutu forces and protecting genocide perpetrators who disappeared into neighbouring Democratic Republic of Congo through a "humanitarian" operation called Turquoise.