A former Rwandan town mayor has been sentenced to 14 years for his part in a church massacre during the 1994 genocide, Times Live has reported.
Onesphore Rwabukombe, 56, was the mayor of the town of Muvumba, north-eastern Rwanda, when the massacre occurred.
At least 400 Tutsi victims were killed in an "extremely brutal manner" with machetes, axes and hoes, said presiding judge Thomas Sagebiel.
Rwabukombe had ordered the attack on the church grounds in the nearby town of Kiziguro and later organised disposing the bodies in pits, the court found.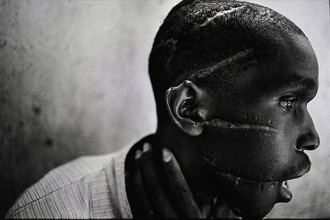 More than 800,000 people were killed during the Rwandan genocide in about three months. Hundreds of thousands of Tutsis (and moderate Hutus who refused to take part in the killing) were massacred across the country with machetes and axes.
Rwabukombe had lived in Germany since 2002, after being granted refugee status. He was arrested in 2011 on an Interpol arrest warrant. The investigating judge ordered the enforcement of pre-trial custody.
Rwabukombe is believed to have led at least three massacres.
"Between April 11 and 15, 1994 the accused ordered and coordinated three massacres in which a total of at least 3,730 members of the Tutsi minority who had sought refuge in church buildings were killed," prosecutor Christian Ritscher had said in court in 2011.
Ritscher described a massacre at a church in the village of Kabarondo, one of the three Rwabukombe was accused of ordering and coordinating.
"1,700 refugees were gathered there. The men were killed first with arrows and similar weapons, followed by women, children and the elderly who were killed with grenades and firearms," Ritscher said.
"No one was to survive. Those who fled the church were slaughtered."
The three-year trial had heard nearly 120 witnesses, and Germany had sent criminal investigators to Rwanda.
Prosecutors had asked for a life jail term over the killings, while defence had demanded an acquittal in the trial held at the higher regional court in Frankfurt.
The Frankfurt court heard the case because Germany did not want to extradite the defendant to Rwanda, fearing he would not receive a fair trial, and as international courts in The Hague and Tanzania did not ask to handle the case.
"Germany is not a safe haven for accomplices to genocide," the head of Germany's prosecution service, Christian Ritscher, told AFP.
"We are very pleased that the German court was in a position to carry out this difficult procedure. This was a pilot trial."