Jenson Button romped to victory at the Australian Grand Prix on Sunday, finishing an action-packed race ahead of the reigning World Champion Sebastian Vettel in second and McLaren teammate Lewis Hamilton in third.
After overtaking Hamilton at the first corner of the Albert Park circuit, Button pulled away and maintained a steady ten-second lead over his teammate for the majority of the race, with the Red Bull of Vettel not showing the dominating performance that we have become used to.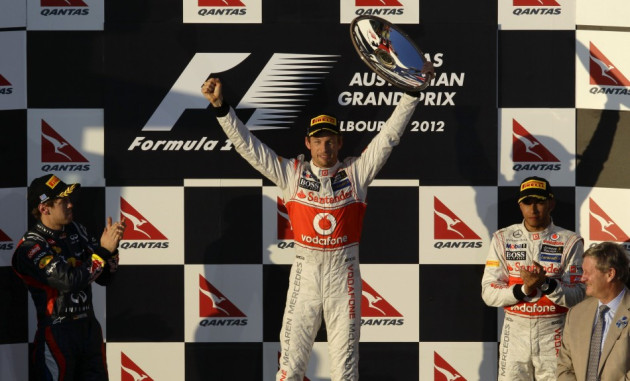 Vettel overtook Hamilton on lap 38 following a manic round of pit stops while the pack was bunched up behind the Safety Car, which was called upon after Heikki Kovalainen's Caterham broke down on the start/finish straight.
Button said in the drivers' press conference: "Every win means a lot to you, it is nice to come away with the victory today - the guys back at [McLaren HQ at] Woking have done an amazing job over the winter. Big thank you to everyone at Woking."
The Brit fought hard to defend from Sebastian Vettel as the race was restarted following several laps behind the Safety Car. Button said: "The last thing you want after a Safety Car is to be leading the pack round to restart.
"I was a little bit on edge but I had heat in the tyres and saved a lot of fuel. I was able to get a gap between myself and Sebastian - I was very happy with that then it was about controlling the pace. It was a pretty amazing day."
Team mate and fellow Brit, Hamilton was visibly unhappy with his third place finish, after qualifying on pole position. "It was not my day. Jenson did a fantastic job...it was just a bit of a tough day, but there's plenty more races ahead so I've got to keep my head up."
It has been a poor opening weekend to the 2012 season for Ferrari, with Alonso finishing fifth after a closly-fought battle with Pastor Maldonado in his Williams, and teammate Felipe Massa retired followed an incident with fellow Brazilian Bruno Senna on lap 47.
Massa had previously been running some way down the order after a poor qualifying session for the Ferrari driver. Alonso, meanwhile, looked in better shape, but was pushed right until the last lap by Maldonardo in the Williams.
While challenging Alonso for fifth, Maldonardo crashed heavily on the last lap after the back of his car stepped out and he was unable to correct it before being thrown into the concrete barrier; the Colombian driver was unhurt in the accident.
After a below-par qualifying session, Sebastian Vettel believes that the Red Bull RB8 showed better performance in the race: "I am very happy to come away with second place," the German said. "The car has a lot of potential and it should be very close [at the next race] with these guys [McLaren].
Returning to Formula One after a two-year break, Kimi Raikkonen put in a strong performance in the Lotus, finishing seventh after starting well down the order in 18th position. The Finn showed no signs of being out of practice and pulled a good move on Massa going into the first corner of lap 27 to take eighth place.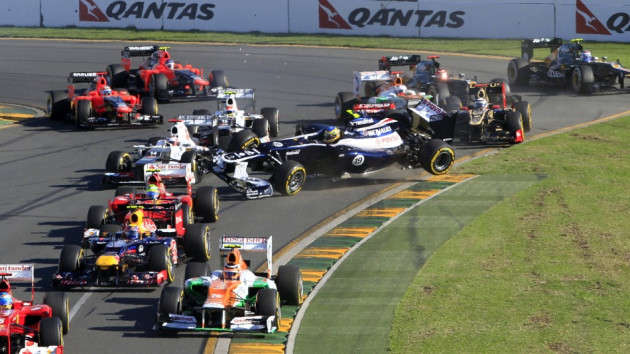 There was plenty of overtaking, mainly thanks to drivers being able to use the DRS (drag reduction system) in two places - the start/finish straight and again in the run down to turn three.
Seven-time World Champion Michael Schumacher started the race strongly, climbing to third at the start and maintaining his position, fighting off pressure from Alonso until the German's Mercedes-Benz suffered gearbox failure on the 11th lap.
Scottish driver Paul Di Resta sneaked into tenth place right at the death, passing Jean-Eric Vergne as they crossed the finish line on the final lap of the race; Di Resta has started the final lap in 13th.
Red Bull driver and Australian homeboy Mark Webber came in fourth, his highest finishing position ever for his home Grand Prix.
Neither HRT drivers, Pedro de la Rosa and Narain Karthikeyan, were allowed to start the race as they both qualified more than 107 percent behind Hamilton's pole position time, a rule introduced to stop dangerously slow drivers from competing.
Teams will now be frantically packing up and catching their flights to Malaysia, where the second round of the championship will take place on Sunday, 25 March.
The full classified results are as follows:
| | | | | | | | |
| --- | --- | --- | --- | --- | --- | --- | --- |
| Pos | No | Driver | Team | Laps | Time/Retired | Grid | Pts |
| 1 | 3 | Jenson Button | McLaren-Mercedes | 58 | Winner | 2 | 25 |
| 2 | 1 | Sebastian Vettel | Red Bull Racing-Renault | 58 | +2.1 secs | 6 | 18 |
| 3 | 4 | Lewis Hamilton | McLaren-Mercedes | 58 | +4.0 secs | 1 | 15 |
| 4 | 2 | Mark Webber | Red Bull Racing-Renault | 58 | +4.5 secs | 5 | 12 |
| 5 | 5 | Fernando Alonso | Ferrari | 58 | +21.5 secs | 12 | 10 |
| 6 | 14 | Kamui Kobayashi | Sauber-Ferrari | 58 | +36.7 secs | 13 | 8 |
| 7 | 9 | Kimi Räikkönen | Lotus-Renault | 58 | +38.0 secs | 17 | 6 |
| 8 | 15 | Sergio Perez | Sauber-Ferrari | 58 | +39.4 secs | 22 | 4 |
| 9 | 16 | Daniel Ricciardo | STR-Ferrari | 58 | +39.5 secs | 10 | 2 |
| 10 | 11 | Paul di Resta | Force India-Mercedes | 58 | +39.7 secs | 15 | 1 |
| 11 | 17 | Jean-Eric Vergne | STR-Ferrari | 58 | +39.8 secs | 11 | |
| 12 | 8 | Nico Rosberg | Mercedes | 58 | +57.6 secs | 7 | |
| 13 | 18 | Pastor Maldonado | Williams-Renault | 57 | +1 Lap | 8 | |
| 14 | 24 | Timo Glock | Marussia-Cosworth | 57 | +1 Lap | 20 | |
| 15 | 25 | Charles Pic | Marussia-Cosworth | 53 | +5 Laps | 21 | |
| 16 | 19 | Bruno Senna | Williams-Renault | 52 | +6 Laps | 14 | |
| Ret | 6 | Felipe Massa | Ferrari | 46 | +12 Laps | 16 | |
| Ret | 20 | Heikki Kovalainen | Caterham-Renault | 38 | +20 Laps | 18 | |
| Ret | 21 | Vitaly Petrov | Caterham-Renault | 34 | +24 Laps | 19 | |
| Ret | 7 | Michael Schumacher | Mercedes | 10 | +48 Laps | 4 | |
| Ret | 10 | Romain Grosjean | Lotus-Renault | 1 | +57 Laps | 3 | |
| Ret | 12 | Nico Hulkenberg | Force India-Mercedes | 0 | + 58 Laps | 9 | |
| DNS | 22 | Pedro de la Rosa | HRT-Cosworth | | | 23 | |
| DNS | 23 | Narain Karthikeyan | HRT-Cosworth | | | 24 | |