Red Bull Racing's Sebastian Vettel stormed to a second win of the 2013 Formula 1 season, with a faultless display at the Bahrain International Circuit in Sakhir. The German, who started the race behind the pole-sitting car of Mercedes' Nico Rosberg, was followed home by the Lotus-Renault pair of Kimi Raikkonen and Romain Grosjean.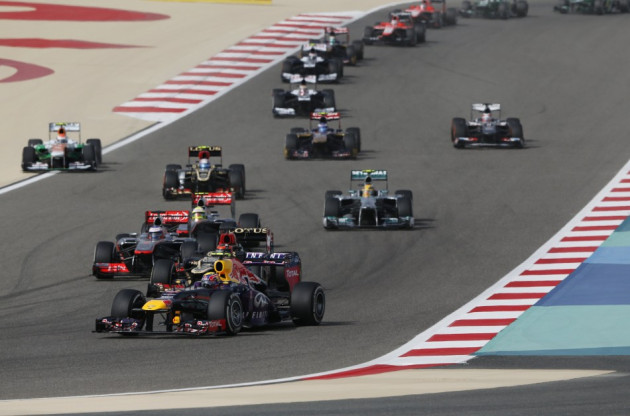 Ferrari endured a miserable afternoon, with Fernando Alonso eighth behind the Mercedes of 2009 champion Lewis Hamilton, the McLaren of Sergio Perez and Vettel's team mate, Mark Webber. Alonso's race was effectively ruined after a problem with his rear wing that required him to pit twice, in quick succession, early in the race. His team mate, Felipe Massa, had an even worse race; the Brazilian finished 15th and nearly 90 seconds behind Vettel.
The win boosts Vettel's lead at the top of the drivers' championships; he moves to 77 points and extends his lead over Raikkonen to 10 points. A disappointed Alonso, who was third coming into the race, slips down to fourth position. Hamilton's fifth place finish means the British driver has 50 points to Alonso's 47.
There was excellent news for the Force India team though. Paul di Resta, who ran strongly all weekend and started fifth on the grid (after penalties to Webber and Hamilton) drove a superb race to claim fourth place and 12 very valuable points for his team.
The 27-year-old was running in the podium places till the final laps but was passed by Grosjean, through the first corner, with only five laps to go. Nevertheless, those points means he now has 20 for the season and he extends his lead over team mate Adrian Sutil, who could only manage 13th.
Pole position man Rosberg had a poor race. The German qualified exceptionally well but he did warn fans, after Saturday's sessions, that he expected a difficult race. The winner of last season's Chinese Grand Prix complained that his car did not handle its tyres very well and that showed in the race. He made four stops to finish ninth and come away from Bahrain with two points. McLaren's Jenson Button rounded out the top ten.
Top Five Finishers at 2013 Formula 1 Bahrain Grand Prix
Sebastian Vettel (Red Bull Racing)
Kimi Raikkonen (Lotus-Renault)
Romain Grosjean (Lotus-Renault)
Paul di Resta (Force India)
Lewis Hamilton (Mercedes)
The win for Vettel and seventh place for Webber means Red Bull walk away from this race with 31 points. They move on to 109 points in the race to defend their constructors' crown. Lotus' excellent results mean they have increased pressure on Ferrari in the race for second place; the team now has 93 points and 16 point lead over the Italians.
The 2013 Formula 1 series now moves into the European races, with Spain's Circuit de Cataluña scheduled to host the fifth race of the season on 12 May.