Mercedes' Nico Rosberg produced a stunning last-gasp lap to snatch pole position for Sunday's 2013 Formula 1 Monaco Grand Prix. The German not only finishes on top of the timesheet for every single session so far this race weekend but also clinches a third consecutive pole this season.
Rosberg's team mate, Lewis Hamilton, came home in second to lock out the front row for the second race in a row; the two qualified in the same position for the Spanish Grand Prix two weeks ago. Rosberg's best was 1:13.876, 0.091s ahead of Hamilton.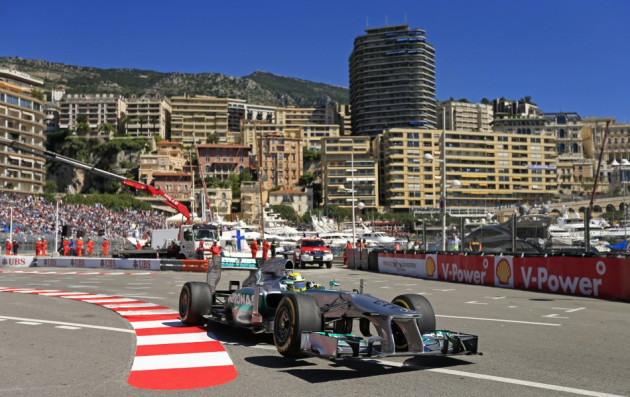 Defending world champion Sebastian Vettel was briefly on top in Q3 but his final run fell just short of Rosberg's benchmark. He will start third, ahead of his team mate, Mark Webber. Red Bull would, ideally, have preferred a front row start but considering they've won this race three years running now (Webber in 2010 and 2012 and Vettel in 2011), the Milton Keynes side will be pleased with this performance.
Ferrari and Fernando Alonso started the weekend brilliantly, matching Mercedes and Rosberg for pace. However, as the sessions wore on, the Spaniard seemed to drop away and may have balance and set-up issues as well; he appeared to struggle with his car in Q3, while on the supersofts.
Alonso will start sixth behind the Lotus-Renault of a former Ferrari world champion - Kimi Raikkonen. The Finn was first out for the final third of qualifying but couldn't quite find the fastest time. He eventually clocked 1:14.822.
His team mate, Romain Grosjean, displayed considerable pace in practice but paid the price for two crashes, at the same corner (Ste Devote), in two sessions; the Frenchman was forced to sit out Q3 and will start 13th.
McLaren's Sergio Perez outqualified his team mate Jenson Button. The young Mexican clocked 1:15.138 to start about three-tenths behind Alonso. Force India's Adrian Sutil, Button and Toro Rosso's Jean-Eric Vergne round out the top ten.
Weather Report
There was rain forecast at some point on Saturday and although drivers and teams enjoyed a sunny practice, the showers duly arrived before qualifying. Fortunately it wasn't a torrential downpour but there was enough to convince the drivers to start with intermediates. Conditions improved steadily though and teams switched to slicks towards the end of Q2. Sunday's race is expected to be run in sunny conditions, with the temperature at 18C at the start.
2013 Monaco Formula 1 Grand Prix Qualifying Results (Top Five)
Nico Rosberg (Mercedes) - 1:13.876

Lewis Hamilton (Mercedes) - 1:13.967

Sebastian Vettel (Red Bull Racing) - 1:13.980

Mark Webber (Red Bull Racing) - 1:14.181

Kimi Raikkonen (Lotus-Renault) - 1:14.822
For the rest of the grid, click here. Note that this is a provisional listing and the final starting grid will be confirmed on Sunday morning by the FIA.