Mercedes' Nico Rosberg led from pole to the chequered flag at the 2013 Formula 1 Monaco Grand Prix. The German produced an absolutely flawless Sunday afternoon drive to claim his first race win of the season and the second of his career.
Defending world champion Sebastian Vettel came home second in his Red Bull Racing-Renault car to extend his championship lead over Ferrari's Fernando Alonso and Lotus-Renault's Kimi Raikkonen. Vettel's team mate, Mark Webber, was third. The 2-3 finish allowed Red Bull to extend their lead in the race for the constructors' crown.
Rosberg's team mate, Lewis Hamilton, had a subdued afternoon but still drove well enough to claim fourth and earn his side some valuable points in the race for the constructors' championship.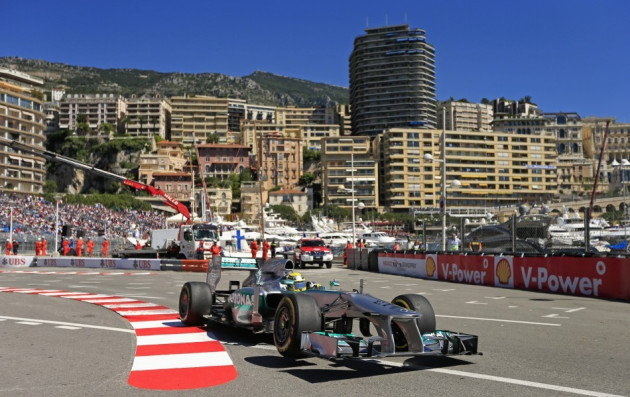 Force India capped a superb race with a fifth place finish for Adrian Sutil. The German driver pulled off brilliant overtaking moves on McLaren's Jenson Button and Alonso in the final laps, passing each of the two world champions at the Loews Hairpin.
The afternoon was an eminently forgettable one for Alonso and Ferrari. The Italian team started the race weekend in excellent form, with both Alonso and Felipe Massa matching Rosberg for pace. However, as the sessions wore on the scarlet cars dropped away and Massa's accident at Ste Devote on Saturday severely compromised the Brazilian's race strategy.
To make things worse, Ferrari were then forced to change his gearbox and he was given an automatic five-place penalty. The icing on the cake of a miserable Monaco Grand Prix was an enormous accident in the race itself. And, as fate would have it, the shunt was at Ste Devote again.
Alonso struggled for most of the race and eventually conceded sixth to Button. The two-time world champion has now dropped 29 points behind Vettel; it was 30 points before his race win in Spain two weeks ago.
Toro Rosso's Jean-Eric Vergne, Sutil's team mate Paul di Resta and Raikkonen rounded out the top ten. The Finn had an equally disappointing weekend and he too concedes championship points to Vettel.
Safety Cars and Red Flags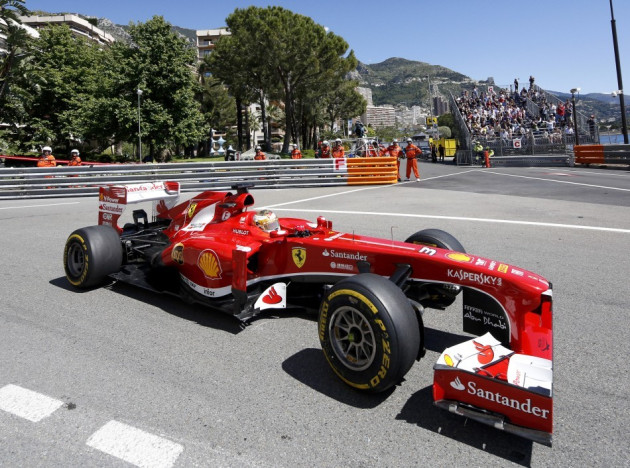 The entire race saw several safety car periods, including one for Massa's crash. It also saw a red flag just past the halfway mark, after an accident involving Marussia's Jules Bianchi and Williams' Pastor Maldonado. The two came together on Lap 46 at Tabac. Replays show Maldonado actually lost control before he collided with the Venezuelan; he made contact with Bianchi's team mate, Max Chilton. And further replays and investigations from stewards revealed the initial accident was actually Chilton's fault. The latter was given a drive-through penalty.
There was one final major incident. On Lap 63 Lotus' Romain Grosjean collided with Toro Rosso's Daniel Ricciardo. The incident happened coming out of the tunnel under the Fairmont. Grosjean appeared to be unsighted by the bright sunshine and Ricciardo may not have helped by misjudging his own braking point. The end result was a spectacular looking shunt into the back of the Austrian's car.
The Frenchman came into the pits for a new front wing (incidentally, that was his fourth accident of the weekend) but was eventually forced to retire after the team confirmed damage to his floorboards.
There was a scare on Lap 70, when McLaren's Sergio Perez and Raikkonen had an incident coming into the Nouvelle chicane. Perez was on the inside appeared to either misjudge his turning point. Raikkonen, on the outside, turned in correctly and clipped the Mexican's front wing. Perez sustained damage in that collision and after a few laps of trying to adapt, he gave up and retired on Lap 74.
Fortunately, all of the drivers involved in the accident are believed to be unharmed.
2013 Formula 1 Monaco Grand Prix Results (Top Five)
Nico Rosberg (Mercedes)

Sebastian Vettel (Red Bull Racing)

Mark Webber (Red Bull Racing)

Lewis Hamilton (Mercedes)

Adrian Sutil (Force India)
For the full results click here.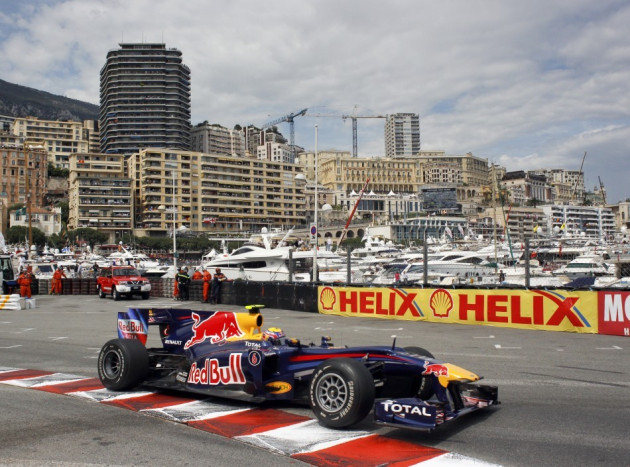 2013 Formula 1 Drivers' World Championship (Top Three)
Sebastian Vettel (Red Bull Racing) - 107 points

Kimi Raikkonen (Lotus-Renault) - 86 points

Fernando Alonso (Ferrari) - 78 points
For the full standings click here.

2013 Formula 1 Constructors' World Championship (Top Three)
Red Bull Racing - 164 points

Ferrari - 123 points

Lotus-Renault - 112 points
For the full standings click here.
The next race is at the Circuit Gilles Villeneuve in Canada, from 7 June to 9 June.