Fernando Alonso was fastest after the first practice session for the 2013 Spanish Formula 1 Grand Prix, with the Spaniard lapping the Circuit de Cataluña in 1:25.252. The Ferrari driver was followed by team mate Felipe Massa, who was 0.203s behind, and the Toro Rosso of Jean-Eric Vergne. Lotus-Renault's Romain Grosjean placed fourth with 1:26.212 and Force India continue their impressive start to the year, with Adrian Sutil's 1:26.212 good enough for fifth place.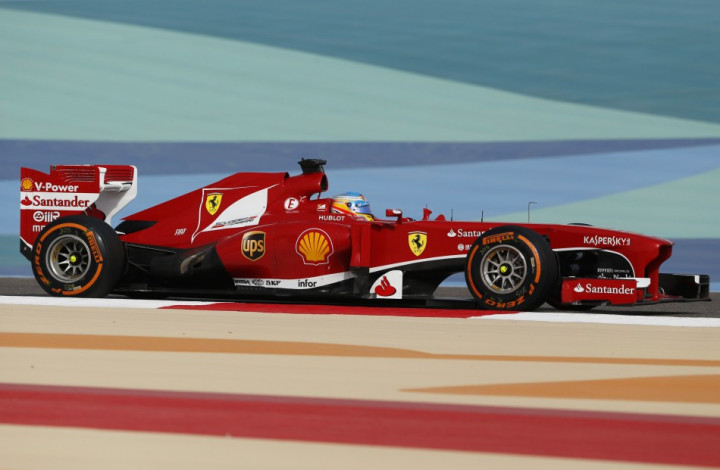 Championship leader Sebastian Vettel and his Red Bull Racing team mate Mark Webber endured a frustrating morning session, with the former the fastest on 1:29.457. This is unlikely to be any indication of the car's true race pace though, with the Milton Keynes outfit often opting to conserve tyres and machinery in the opening practice sessions of race weekends.
The morning session in Spain began with heavy rainfall across the track and temperatures well below 20C. There was far more cloud cover than was originally predicted, meaning sunshine was at a premium. The good news, though, was the rainfall cleared up at the end of the session and cars were running at something approaching normal pace.
Jules Bianchi and Force India were the first out, with Sutil, Sauber's Esteban Gutierrez and Webber following. Early runners favoured inter and even full wet tyres.
Leading drivers like Vettel, Alonso and Mercedes' Hamilton - who finished sixth and more than a second off the Ferraris - waited for nearly half-an-hour before venturing out. By the 45­-minute mark only Massa, Alonso, Grosjean had serious times posted.
Jean-Eric Vergne's time was the signal for a rush of drivers to hit the track and the benchmark fell swiftly, with Webber, Alonso and Hamilton bringing the time down to 1:36.159 before Massa posted 1:36.005 and Toro Rosso's Daniel Ricciardo smashed the sheets with 1:29.602.
Hamilton and Williams' Valtteri Bottas also posted top times before Alonso's last-minute run sealed top spot, in a session that saw an absolute torrent of times in the final 10 minutes, with all the drivers switching to Pirelli hard compounds for a flying lap.
The second session starts at 2pm local time (1pm BST).
READ: Formula 1 Spanish GP 2013: Where to Watch Friday Practice Live and Weather News