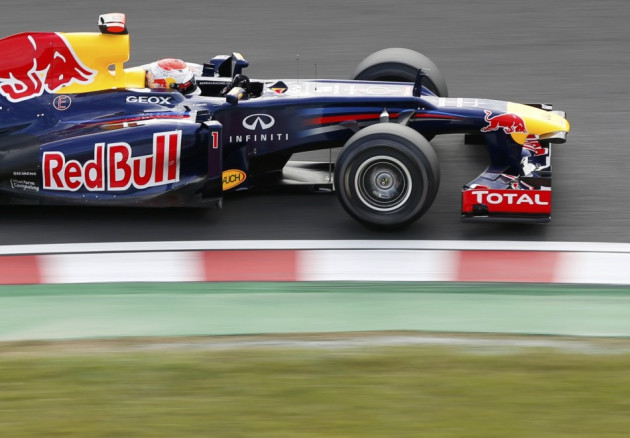 Red Bull Racing's Sebastian Vettel takes pole position for Sunday's Formula 1 Japanese Grand Prix, around the Suzuka figure-of-eight circuit. The German, the reigning world champion, was dominant in the third and final practice session earlier in the day, and made sure he transferred that dominance into qualifying for the race.
Vettel's pole position time - 1:30.839 - was 0.251s faster than his team-mate Mark Webber. The result means the Red Bull team, who are the defending constructors' champions, lock out the front row of the grid for the first time this season.
Behind the Red Bull duo, McLaren's Jenson Button took third place with 1:31.290. However, the 2009 world champion will face a five-place grid penalty for changing his gearbox before schedule, meaning he will drop to eighth on the final grid. Meanwhile, his team-mate Lewis Hamilton, who has confirmed he will leave McLaren for the Mercedes' works team next year, saw a strong start to the weekend fade away. Hamilton was second fastest in Friday's sessions but has since dropped to the tail of the top ten. He qualified with a time of 1:32.237 and will start in 10th place after the penalty to Button has been applied.
Williams' Kamui Kobayashi, for whom this is a home race, had a superb qualifying, flying to fourth on the grid with 1:31.700. Even better, Button's demotion means he will start third on the grid. Elsewhere, Lotus drivers Romain Grosjean and Kimi Raikkonen finally seem to have turned the weekend around, qualifying fifth (1:31.898; will start fourth) and eighth (1:32.208; will start ninth) for this race.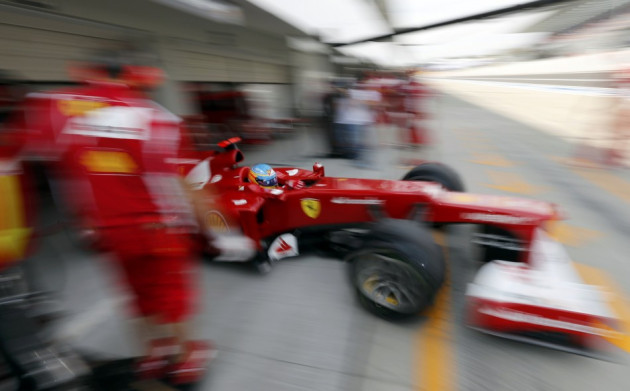 Mexican Sergio Perez, who will replace Hamilton at McLaren next season, gave his new team a taste of what to expect, out-qualifying his predecessor and Ferrari's Fernando Alonso, the championship leader, to take sixth place. Perez's time was 1:32.022, compared with Hamilton's 1:32.237 and Alonso's 1:32.114. The re-worked grid will see Perez move up to fifth on the final list and Alonso sixth, while Hamilton will drop one place to accommodate Button.
Other notable results were a disappointing 11th for Alonso's team mate, Felipe Massa. The Brazilian could only manage a 1:32.293 in Q2 after impressing in the morning's practice session. Sahara Force India's Nico Hulkenberg qualified 10th but a five place penalty similar to Button's sees him drop to 15th, while Mercedes' Michael Schumacher, who will retire, for the second time, at the end of this season, managed 13th but will start 23rd after a ten-place penalty from the last race.
For the full timesheet, click here. The full and final grid will be published by the FIA on the morning before the race.