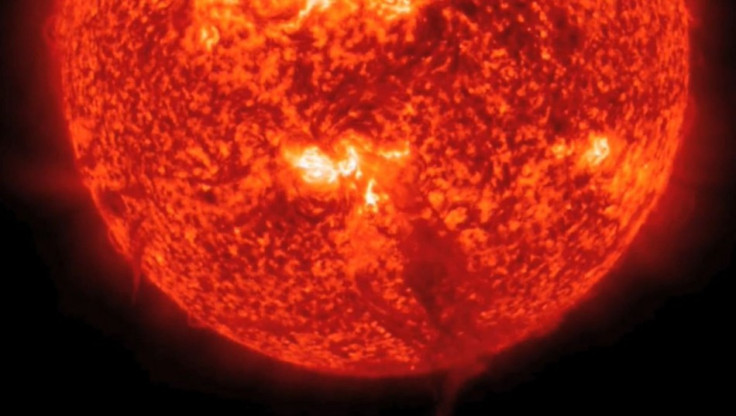 A beam of plasma from the powerful solar flare that occurred on Monday could reach the Earth on 4 July, the day the US celebrates its independence holiday, a SPACE.com report suggests.
NASA's Solar Dynamics Observatory spacecraft recorded a flare (or a sun storm) from a large sunspot called AR1515, caused due to intensive magnetic activity on the solar surface. Monday's solar flare was one of a few strong flares, which space weather officials forecasted would happen in the coming days.
Watch the Sun Flare Up!
A video shows the recent solar flare, captured by the Solar Dynamics Observatory:
Plasma Glances at Earth on 4 July, 2012
The Coronal Mass Ejection (CME), or the plasma from the solar flare consisting primarily of electrons and protons, will hit the Earth's magnetic field on 4 July, making it a significant space event in the US. However, scientists have clarified that the particles are not aimed directly at Earth.
"The eruption also hurled a CME into space, but not directly toward Earth. The south-traveling cloud could deliver a glancing blow to our planet's magnetosphere on July 4th or 5th," Spaceweather.com stated.
A solar flare or stellar flare is a large explosion in a star's atmosphere resulting in release of abundant energy. In the case of our solar system's Sun, if an explosion happened in, or headed towards, the general direction of Earth, it could disrupt radio waves and other devices.
Watch for Auroras
The CME from the explosion on the solar surface usually causes space phenonmenon called auroras or Aurora Borealis, also known as Northern Lights. Auroras are created as a result of a natural mechanism between solar wind, ion flow, the Earth's magnetic field and collisions between ions and atmospheric atoms and molecules that cause energy released in the form of colorful lights. According to the National Oceanic and Atmospheric Administration, (NOAA) forecasters estimate a 35 percent chance of auroras, as and when the material from the solar flare reaches the earth.