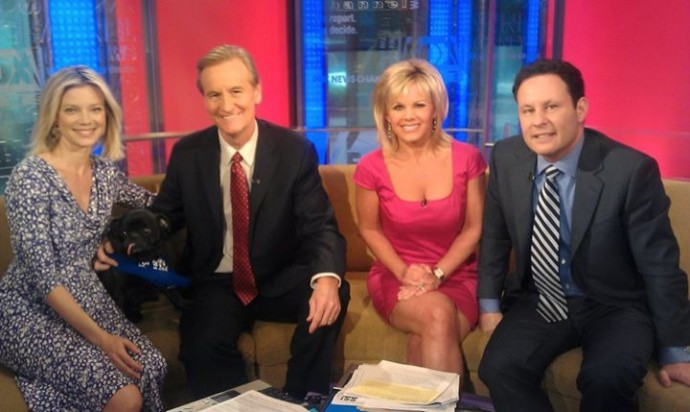 Former Fox daytime anchor Gretchen Carlson has filed a lawsuit against network president Roger Ailes, claiming he fired her for refusing to have sex with him. The suit alleges that Ailes "unlawfully retaliated" against her and "sabotaged her career after she refused his sexual advances and complained about severe and pervasive sexual harassment".
According to the suit, Ailes tried to pressure Carlson to sleep with him "by various means," including insistent use of "sexual and/or sexist comments" in everyday conversation. It quotes Ailes, 76, as allegedly saying: "You and I should have had a sexual relationship a long time ago and then you'd be good and better and I'd be good and better. Sometimes problems are easier to solve that way".
When she rebuffed his advances, the lawsuit claims Ailes retaliated by reducing Carlson's salary, cutting her on-air appearances and refusing to renew her contract in June. The suit also accuses Ailes of "severe and pervasive" sexual harassment and one other newsroom personality tolerating it.
Carlson alleges that Ailes repeatedly asked her to "turn around so he could view her posterior, commented repeatedly about her legs, and instructed her to wear certain outfits that he claimed enhanced her figure."
Ailes called the suit "defamatory." It is "not only offensive, it is wholly without merit and will be defended vigorously," he said in a statement.
"This is a retaliatory suit for the network's decision not to renew her contract, which was due to the fact that her disappointingly low ratings were dragging down the afternoon lineup," he added. "Ms Carlson became aware that her career with the network was likely over and conveniently began to pursue a lawsuit."
But other women are speaking out against Ailes' behaviour and attitude toward women.
Another female employee said she was ordered by Ailes to always wear a dress and to "turn around so he could see my ass," reports the Huffington Post.
Ailes has bragged that he picks his on-camera female personalities for Fox on whether or not "he would f*** her," a women employee at Fox told Huffpo. As for men, Ailes based his decision on "whether he could sit down for a baseball game with [the potential hire] and not get annoyed", added the staffer who asked not to be identified out of fear of retaliation.
After the Carlson suit was filed "at least 10 other women" from Fox contacted the law offices of Carlson's attorney Nancy Erika Smith of Smith Mullin about similar treatment, a firm spokesman told CNN Money.
Carlson, 50, a 1989 Miss America pageant winner, has spoken openly about repeated sexual harassment in the media industry. Early in her TV career a one top executive "threw himself on top of me and stuck his tongue down my throat," she wrote in her 2015 book Getting Real.
Carlson was a host of the popular Fox & Friends morning programme from 2006 until 2013, but was removed from the show after complaining about her male co-host Steve Doocy. The suit says Doocy — who is not a defendant in the court action — "regularly treated her in a sexist and condescending way."
When Carlson complained to Ailes about Doocy, the suit alleges, Ailes called Carlson a "man hater," and said she "needed to learn to get along with the boys."
She was soon taken off the show and moved to The Real Story With Gretchen Carlson which aired at 2 pm on the network. The show consistently won its time slot, recently averaging 1.1 million daily viewers.
Fox issued its own statement about the suit saying: "We take these matters seriously. While we have full confidence in Mr Ailes and Mr Doocy, who have served the company brilliantly for over two decades, we have commenced an internal review of the matter."