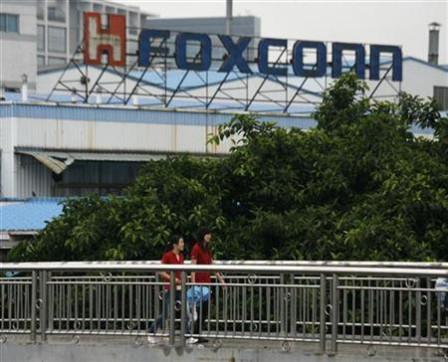 Taiwan-based technology group Foxconn has confirmed that it is cooperating with a Chinese investigation into bribery allegations involving some of its managers.
Foxconn, which assembles well-known products such as the iPhone, said it would be reviewing its acquisition procedures and would strengthen the internal controls as some of its executives were accused of taking bribes from its supply chain partners.
"The company will not only thoroughly investigate the personnel implicated in the [bribery] case ... but also review countermeasures to amend acquisition procedures and the integrity of managers and stop similar incidents from happening again," said Foxconn in a statement.
"We are working with law enforcement officials who we brought in to work with our own internal audit team as part of an investigation into allegations against a number of Foxconn employees related to illegal payments from supply chain partners."
The comments followed a report in the Taipei-based Next Magazine which said a Foxconn executive had been detained in the southern city of Shenzhen in September for accepting bribes from suppliers in exchange for procuring equipment from their companies. However, the report did not reveal the exact figure of the bribe received by the managers.
The Next report, quoting unnamed sources, alleged this was not an isolated incident and said Foxconn alerted the mainland law enforcement authorities after it received a tip-off several months ago. According to the report, agents working with Sony, Samsung Electronics and Panasonic were contacted by the company, though it was not confirmed by Foxconn.
Bribery allegations against its employees are the latest in a slew of problems to hit Foxconn. Earlier, a spate of suicides in its factories had turned the spotlight on the working conditions of its employees, prompting calls for better working conditions for staff.
An investigation by the US Fair Labour Association (FLA) in early 2012 had found that there was widespread flouting of employment rules at Foxconn plants.
The FLA investigation found that employees often worked over 60 hours a week and sometimes for seven days a week without the mandatory one day off. It happened though Chinese labour law limits the weekly working hours to 49 hours a week.