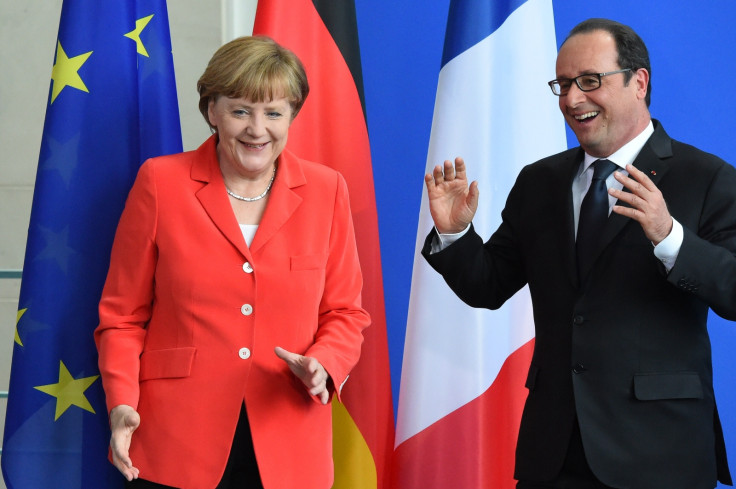 David Cameron's diplomatic wings were cut before his EU reform charm offensive was able to take off after France and Germany reportedly made a game changing pact.
German Chancellor Angela Merkel and French President François Hollande have been able to see Cameron off at the pass by agreeing to closer ties between eurozone countries.
The agreement, which was leaked to Le Monde, apparently also includes opposition to Cameron's proposal to change the Lisbon treaty and win concessions for the UK from Brussels.
The pact was finalised behind the prime minister's back at the EU summit in Latvia as the Greek debt crisis threatened to destabilise the monetary union.
The move will raise the stakes for Cameron who is expected to campaign for an "In" vote ahead of his promised referendum on the UK's membership of the EU.
The prime minister met with the president of the European Commission Jean-Claude Juncker to discuss his reform package at Chequers, Cameron's official Buckinghamshire retreat, last night (25 May).
"The prime minister underlined that the British people are not happy with the status quo and believe that the EU needs to change in order to better address their concerns," a Downing Street spokesman said.
"Juncker reiterated that he wanted to find a fair deal for the UK and would seek to help. They talked through the issue at some length in the spirit of finding solutions to these problems.
"They agreed that more discussion would be needed, including with other leaders, on the best way forward."
Cameron planned to visit the leaders of France, Germany, Netherlands, Poland and Denmark in a bid to support for his proposals. But revelations of the Franco-German pact may undermine the prime minister's efforts.
The British government will publish its EU referendum bill a day after the Queen's Speech on 28 May.
The bill will outline that a similar franchise to the general election will be used for the referendum. The move means that EU citizens living in the UK will not have a say.