Former French foreign minister Bernard Kouchner has claimed ex-president Nicolas Sarkozy was disliked while in power because of his Jewish ancestry.
Kouchner's claims were revealed in an interview with French radio station RMC Radio when asked about comments regarding Sarkozy in his new book, Crossed Memories.
"Nicolas Sarkozy wasn't cherished; he was detested also because he was the son of a Hungarian and the grandson of a Jew," Kouchner wrote in the book.
When asked about the comments by the station, Kouchner, whose own father was Jewish, said: "I think France is a racist country, certainly. But he got on alright, he achieved anyway though originally, I think this issue was present."
According to Israeli press reports, Sarkozy's paternal grandfather was a Sephardic Jew of Greek origin. He is also the son of a Hungarian aristocrat.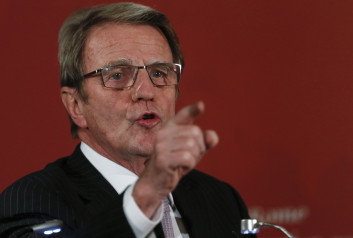 Last month, Sarkozy, 59, announced he would return to French politics to run for the leadership of his conservative UMP party in the October elections.
With France's current President Francois Hollande becoming the most unpopular French politician in the 21st century, Sarkozy announced his decision on Facebook, writing: "I have decided to propose a new political choice to the French.
"I love France too much. I am too passionate about public debate and the future of my compatriots to see them condemned to choose between the desperate spectacle of today and the prospect of dead-end isolation," he continued, alluding to Hollande's leadership and the rise of the far-right National Front [NF].
He was voted out of office after implementing an anti-immigration agenda and was viewed as too close to the rich during the financial crisis.
Following his exit from French politics, Sarkozy was investigated for taking donations from L'Oreal heiress Liliane Bettencourt but the charges were dropped. He is currently being investigated for allegedly accepting campaign funds from deposed Libyan dictator Muammar Gaddafi.
Kouchner served as France's foreign minister from 2007 to 2010 under Sarkozy, who became leader of France himself in 2007 and left in 2012.