Nicolas Sarkozy: Ex-French President 'Linked' to Investigation on 45 Helicopters Sold to Kazakhstan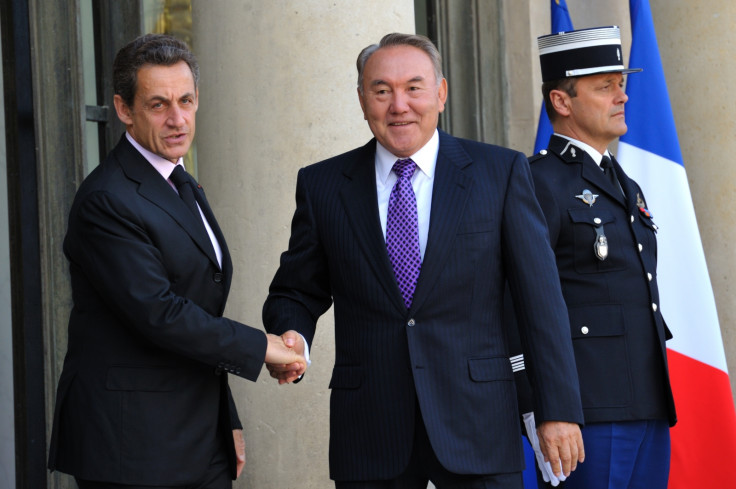 French prosecutors have launched an investigation into allegations of illegal kickbacks linking former French president Nicolas Sarkozy over the €2bn (£1.57bn) sale of 45 helicopters by the Eurocopter group and other deals to Kazakhstan.
French daily Le Monde reported a formal investigation on money laundering was opened in 2013. Jean-François Etienne des Rosaies and Nathalie Gonzalez-Prado, top advisers to Sarkozy's right-wing government, were detained for questioning by police last month.
Sarkozy was himself suspected of allegedly pressuring Belgian lawmakers in 2011 into easing legal sentences against three Kazakh oligarchs in that country, as part of the helicopter deal.
French prosecutors allege Kazakh President Nursultan Nazarbayev demanded Sarkozy intervened to save the three Kazakh oligarchs as a kickback for the trade agreement between the two countries, according to Le Monde.
The police investigation dates back to 2012, when Tracfin, the French finance ministry's department that monitors suspected money-laundering activities, signalled a movement of €300,000 in the bank account of Sarkozy's old aide, Francois Etienne des Rosaies.
It allegedly discovered the money came from a rich Belgian businessman of Kazakh origin, Pathok Chodiev, also a friend of Nazarbayev, through his French lawyer Catherine Degoul.
According to French financial police, the money was allegedly linked to a trade agreement between France and Kazakhstan signed under Sarkozy auspices in 2010.
Chodiev and other two Belgian oligarchs of Kazakh origin, Alexander Machkevitch and Alijan Ibragimov - nicknamed the Trio - were investigated in Belgium for corruption in 2011 for money laundering, conspiracy and forgery of documents.
In June 2011, the three accepted an offer from the Belgian prosecuters that allowed them to pay a fine and settle the case. They made no admission of guilt.
The deal was reportedly permitted under a decree approved by the Belgian Senate in March that authorises the removal of charges under payment of a sum. The man who championed the deal was the then-Senate vice-president and lawyer Armand de Decker. According to Le Monde newspaper, Chodiev was a client of De Decker who acted as a middleman between the French president and the Belgian lawmakers.
De Decker has denied any wrongdoing but admitted publicly to have met the French lawyer of Chodiev and Sarkozy's aide, Des Rosaies.
Several deals — including the sale of 45 helicopters by French group Eurocopter — were signed during a Paris visit by Nazarbayev in October 2010 for €2bn.
Sarkozy announced his political comeback two weeks ago and launched a bid to the leadership of the opposition party UMP.
© Copyright IBTimes 2023. All rights reserved.