A French court's decision to ratify secret wiretap recordings of conversations between former President Nicolas Sarkozy and his lawyer has allowed investigations to resume in a corruption probe that could be "very dangerous" for Sarkozy.
The ruling comes at a bad time for the head of the opposition Les Republicains (formerly the UMP), who is eyeing a 2017 presidential bid, as political analyst Thomas Guénolé claims the re-opening of 'traffic of influence' case could bring the controversial politician down.
"It's potentially very dangerous for Nicolas Sarkozy, judicially speaking. What he is accused of can lead him to be prosecuted and convicted really easily," Guénolé told IBTimes UK.
Sarkozy faces ineligibility sanction
Sarkozy – who was president from 2007 to 2012 – was detained for questioning over an alleged attempt to pervert the course of justice in July last year.
Investigators claim the secretly taped conversations suggest the ex-president and his lawyer Thierry Herzog were trying to obtain inside information from one of the judges about the progress of another probe concerning allegations that his 2007 election campaign was financed by former Libyan dictator Muammar Gaddafi to the tune of €50m.
If he gets convicted, then chances are Sarkozy will get sanctioned by an ineligibility.
- Thomas Guénolé
Most damagingly, investigators allege he offered one magistrate an influential job in Monaco if he passed on legal secrets.
Under French law, when someone is suspected of traffic of influence – the practice of using one's influence with persons in authority to obtain favours or preferential treatment for another, usually in return for payment – the court only needs to prove the person told another one of his or hers intention to do it to be convicted. The prosecution does not have to prove the accused has actually done it.
"Sarkozy allegedly did tell a judge he would take care of it by asking a friend to do him a favour, which would be considered to be traffic of influence, without having actually done it in the end. Supposedly telling the judge he would do it is as serious as if he had actually done it, and he could be convicted for the crime," Guénolé said from Paris.
The key question, however, will be whether the judicial process will be "fast enough to get Sarkozy convicted before the Republicains party primaries in November 2016". Technically, the answer is yes, but the process may be slowed down.
"If he gets convicted, then the chances are Sarkozy will get sanctioned by an ineligibility. It would be impossible for him to even be candidate for his own party's primaries."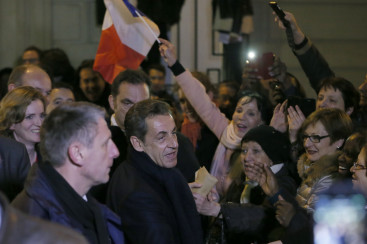 Public opinion polarised

In opinion polls, however, a re-opening of the case might have no serious impact.
The country is divided between those who believe Sarkozy "has to be guilty of something" and those, "right-wing ones mostly" who see this as part of a judiciary plot against the former president.
Despite claims by Sarkozy in July last year that he had been the victim of a plot, one poll showed that 63% of people believed the former president had not been unfairly targeted and was being "treated like any other suspect".
Another poll, however, revealed 80% of members of his centre-right party felt he had been particularly harshly treated, because many French judges dislike Sarkozy after he attacked judicial powers repeatedly during his presidency, and faced a number of political conflicts with some branches of the judiciary system.
"They think any judicial matter related to Sarkozy is a judicial conspiracy from left-wing judges to shoot him politically. Sarkozy himself says so," explained Guénolé.
The former President has used the Bettencourt case, in which a prosecution against him was purely and simply dismissed, to support his plot claims.
"The fact the case was so easily dropped is extremely rare because the judge had obviously done something judicially wrong," Guénolé said.
Sarkozy has since been tied to or investigated in several other cases, most of which are pending.