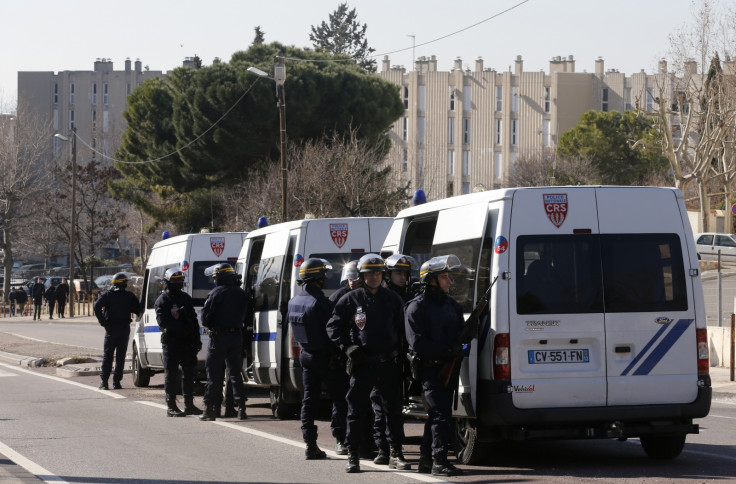 French police have come under fire in Marseille amid high tensions in the wake of January 2015's deadly Islamist attacks in Paris.
The Cité de la Castellane neighbourhood of the southern port city was under lockdown after local residents reported witnessing two men in balaclavas and bulletproof vests firing Kalashnikovs.
About 40 officers were at the scene, with a police helicopter hovering over the district north of the Mediterranean city, local media reported.
The director for public safety, Pierre-Marie Bourniquel, told la Provence newspaper that several shots were fired at a police vehicle, narrowly missing it.
There were no immediate reports of any casualties.
According to Le Figaro, the shooting was not terrorism-related but part of a turf war between two local drug gangs.
Police came under fire as they responded to a first shooting incident involving two groups of five to 10 mobsters, the newspaper reported.
Bourniquel and a police captain were said to be inside the vehicle that was then shot at.
Caroline Pozmentier, deputy mayor of Marseille, also suggested local criminals were to blame.
"This battle against drug trafficking is a long-term battle," she told Reuters.
The incident came as Prime Minister Manuel Valls was due in the city to address public safety issues after a drop in the levels of criminality.
Security forces have been deployed outside schools in the area.
France has tightened security in the wake of the deadly terrorist attacks that left 20 people dead, including three Islamist gunmen, in the capital last month.
Tensions have since been high across the country amid fears that Islamist sympathisers could stage lone-wolf attacks emulating the killings carried out by brothers Said and Chérif Kouachi and Amedy Coulibaly.
Last week, two French soldiers guarding a Jewish community centre in Nice, were wounded by a knife-wielding man.