Students in Paris and other French cities such as Marseilles and Nantes have clashed with police during protests against the government's proposed labour reforms. Student groups joined hard-line labour unions in calling for protests against Labour Minister Myriam El Khomri's reforms, the government's latest attempt to bring down unemployment.
The students, who mobilised following a call to schools and unions to join the demonstrations, threw shovels, flares and other projectiles at police and attacked branches of financial institutions. Police used tear gas in order to contain the protests.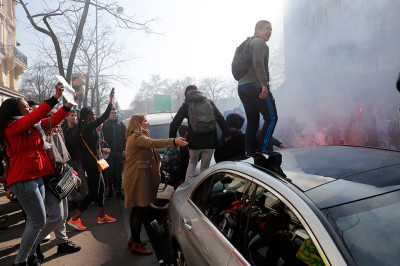 French Prime Minister Manuel Valls had unveiled a revised labour reform bill that makes concessions to trade unions following the mass protests against the measures. In the revised version, the government will no longer impose a cap on severance pay for dismissed workers, a measure many companies argued would have helped reduce the uncertainty of going through the industrial court system. Instead, the new limits will be introduced as non-binding guidelines. The government failed to convince student organisations about the merits of its labour reform plans, and the unions left the meetings making renewed calls for street protests.