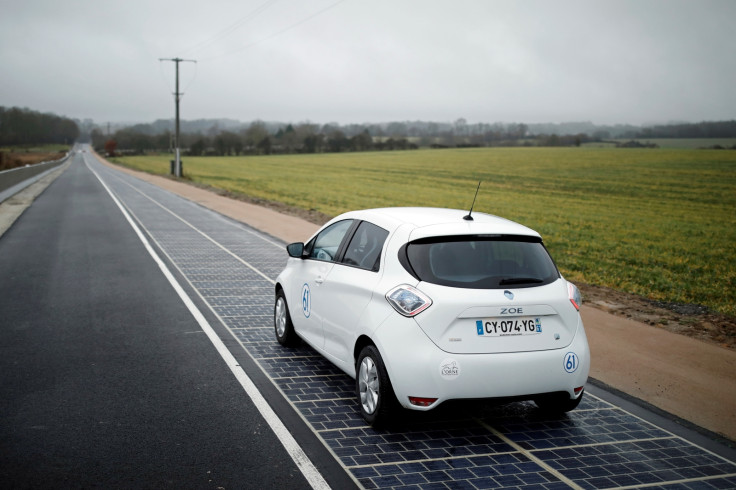 France has unveiled what it claims to be the world's first solar panel road in a small village in Normandy. Covered with 2,800 square metres of resin-coated solar panels, the 1km (0.6 miles) stretch of road in Tourouvre-au-Perche was inaugurated on Thursday (22 December) by French Ecology Minister Ségolène Royal.
The solar-powered road, named Wattway, cost €5m (£4.2m, $5.2m) and is expected to produce 280 MWh of electricity per year and eventually power the streetlights in the small town of around 3,400 residents. Although daily production is expected to fluctuate depending on weather and seasons, it is expected to reach 767kWh per day and peak up to 1,500 kWh per day during the summer.
The government-sponsored road was built by French civil engineering firm Colas, a subsidiary of construction giant Bouygues, which says it has about 100 other projects for solar-panelled roads, half of which are in France and the other half abroad, the Guardian reports.
"This new use of solar energy takes advantage of large swathes of road infrastructure already in use to produce electricity without taking up new land," Royal said in a statement.
Approximately 2,000 motorists will use the RD5 road daily during its two-year test period. If the project is successful, Royal said she wants to see the solar panels installed in one out of every 1000km of road in France over the next five years. France currently has a total of one million km of roads.
However, some experts have questioned the value of the project given its hefty price tag as well as its ability to resist the elements and withstand different kinds of vehicles including trucks.
"It's without doubt a technical advance," Marc Jedliczka, vice-president of Network for Energetic Transition (CLER) told Le Monde. "But in order to develop renewables, there are other priorities than a gadget of which we are more certain that it's very expensive than the fact it works."
Colas, however, says it hopes to reduce the cost of production of the solar panels. It also said that the panels have been covered with a resin that contains fine sheets of silicon, allowing them to withstand traffic and heavier vehicles.
Royal noted that "as we develop more roads like this, the costs will be driven sharply down". She announced a four-year plan "for the national deployment of solar highways with future projects already slated for western Brittany and southern Marseille."
The president of the French renewable energy association SER Jean-Louis Bal said: "We have to look at the cost, the production [of electricity] and its lifespan. For now I don't have the answers."